Afghanistan: Hammond 'reassured' by UK troops' protection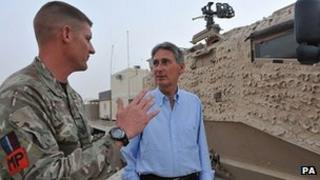 Defence Secretary Philip Hammond has said he is "reassured" Afghan leaders are taking steps to stop attacks by their troops on foreign soldiers.
Mr Hammond said he had raised the issue of so-called green-on-blue attacks on British forces when he had met Afghan President Hamid Karzai on Wednesday.
Extra steps were being taken, he said, although the risk of further attacks could not be eliminated entirely.
Mr Hammond also met with troops from the 12th Mechanized Brigade.
The term "green-on-blue" comes from the colour-coding systems used by the US military.
Some 45 Nato soldiers have died in more than 30 green-on-blue attacks this year. While most of the victims have been American, soldiers from the UK and other nations have also been killed.
Vetting procedures
There are currently 130,000 Afghan soldiers fighting Taliban insurgents alongside Nato troops.
After his meeting with Mr Karzai, the defence secretary said improved vetting procedures for Afghan soldiers, an anonymous system for reporting incidents and outlawing the sale of military uniforms and weapons were among measures being taken by the authorities in Kabul to counteract the problem.
"The green-on-blue threat and the tragic incidents we have seen are a very serious concern to me, and the issue was at the top of my agenda in meetings with Afghan leaders," he said.
"I recognise that we cannot eliminate the risk entirely, but I was reassured that President Karzai and the rest of the Afghan government and military hierarchy clearly take this issue as seriously as I do and are taking real steps to tackle the threat.
"We are all united in the view that we cannot let these few terrible incidents derail the steady progress that is taking place."
Meanwhile, in an interview with the Guardian, Mr Hammond suggested British troops could be withdrawn from Afghanistan sooner than expected.
He said: "I think there is a bit of a rethinking going on about how many troops we do actually need. There may be some scope for a little bit more flexibility on the way we draw down, and that is something commanders on the ground are looking at very actively."
The MoD said the defence secretary's comments were consistent with what the government had previously announced - that 500 troops would come home by the end of this year and soldiers would remain in Afghanistan in a combat role until the end of 2014.