Syria conflict: Tony Blair says 'ramp up' pressure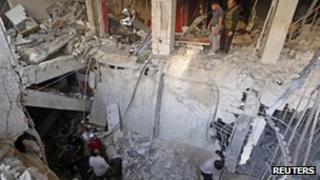 Tony Blair says pressure on President Bashar al-Assad must be stepped up, calling events in Syria "appalling".
The former UK prime minister, who is now Middle East envoy, said leaving Syria alone would have "very brutal" and "very bloody" consequences.
He told the BBC many of the problems around Syria were about "what happened next" if Mr Assad were removed.
The new UN-Arab League mediator Lakhdar Brahimi warned on Sunday the crisis presented a "threat to the world".
After his first meeting with President Assad, he said: "The crisis is dangerous and getting worse, and it is a threat to the Syrian people, the region and the world."
Mr Blair, who is envoy for the Quartet - the UN, US, EU and Russia - was asked on BBC Radio 4's Today programme whether he would be advocating military action.
"I would be advocating ramping up where we are. How you do that, whether it is along the lines of what the Turks have suggested, creating zones of immunity, these are questions that we should debate," he said.
"What I'm certainly very alarmed at the prospect of is the notion that we just leave that now. The consequences of that will be very brutal and very bloody for all the people there."
'Wrong and laughable'
He said: "We have got to look very carefully at what more we can do to ratchet up the pressure on Assad.
"People say inevitably he will go. I don't think it is inevitable, actually, unless we are prepared to make clear our support and solidarity for those people who are struggling against what is a very, very brutal repression now."
The conflict between forces loyal to President Assad and those opposed to his rule has led to, according to the UN, more than 18,000 people being killed since March 2011. Activists put the death toll at 23,000.
Mr Blair was also asked about recent criticism of him from archbishop Desmond Tutu over the Iraq war.
the former prime minister rejected the suggestion he was a "liar", saying instead people could have honestly held differences of views.
For example, he said, some people might think it morally right to intervene in Syria now, while others think it morally right not to, despite thousands of people being killed.
On the current protests against a low budget anti-Islam film, Mr Blair said the film was "wrong and offensive but also laughable as a piece of film making - what I am afraid is very dangerous and actually is very wrong is the reaction to it".
Mr Blair said such problems were an inevitable consequence of the Arab Spring that had overthrown repressive regimes in Libya and elsewhere.
"I just see a region that is in the process of huge transition. There is essentially a struggle between the forces of modernisation, who want an open society, a properly functioning economy, who recognise the 21st Century is the 21st Century, and then these very powerful forces of reaction based on a perverted view of religion that want to pull the whole thing backwards," he said.
"When you lift the lid off the repression what comes out are a whole lot of religious, ethnic, tribal influences that themselves have to be countered and moulded into something that is compatible with the modern world.
"It's not that the Arab Spring has caused this, but it does mean you are on a further stage of modernisation."
He added that the "good news" was there were plenty of people who thought the reaction to the film was absurd.