Ken Clarke's jokes about the coalition 'were distorted'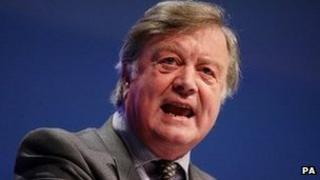 Conservative cabinet minister Ken Clarke has reportedly joked that Chancellor George Osborne and Business Secretary Vince Cable have each urged him to "keep an eye" on the other.
The ex-justice secretary said he was "pleased" to get a roving economic role in the recent reshuffle, the London Loves Business website added.
The Tories had "accidentally drifted to the right", he reportedly said.
But Mr Clarke accused the website of "distortions" in quoting his speech.
The 72-year-old, the most experienced member of the government, was demoted to become minister without portfolio in David Cameron's shake-up of this top team earlier this month.
'Right approach'
Having served as chancellor during the 1990s, he is said to have a "roving role" within the Cabinet Office, including looking at the Conservative-Liberal Democrat coalition's economic policy.
In a speech to the Tory Reform Group at London's Carlton Club, he reportedly said: "[Conservative] George [Osborne] wants me in to keep an eye on [Liberal Democrat] Vince [Cable], and Vince wants me in to keep an eye on George".
He was described as praising Prime Minister David Cameron for coping "with the right [of the Conservative Party] acting up again".
Mr Clarke, who is pro-European and seen as being on the Tory left, and therefore closer in views to the Lib Dems than many of his colleagues, reportedly added: "The party has accidentally drifted to the right."
He defined his own job as "slotting into the bewildering range of things that the government is doing", calling its agenda an "alphabet soup", it was added.
But Mr Clarke issued a statement following the reporting of his speech, saying: "They give the opposite impression to the serious points I clearly made. It is slightly altered little phrases taken from different jokes and put together.
"I made the case for a successful coalition and stated there was no ideological divide within it on economic policy. On the economy I stressed that we were in for the long haul and that the chancellor's approach is the right one.
"I also said in passing that the reshuffle should not be interpreted as a shift to the right. Even I am surprised at distortions on this sort of scale."
The journalist who reported Mr Clarke's comments, Asa Bennett, said he had received an e-mail stating he was banned from attending future Tory Reform Group events.