Electric car money benefiting 'handful of motorists', MPs say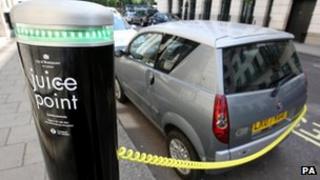 Government spending of £11m to encourage people to drive electric cars has benefited only a "handful of motorists", MPs have said.
They also warned the scheme was being used to subsidise second cars for more affluent households.
In a report, the Transport Select Committee questioned whether this represented a good use of public money.
But ministers said business customers accounted for about 75% of sales so far and the market was "gathering pace".
The government has been offering grants of up to £5,000 towards the cost of plug-in cars in a bid to reduce carbon emissions while a network of more than 1,600 public charging points has been set up across the country to encourage drivers to switch.
But Labour MP Louise Ellman, chair of the cross-party committee, said the government "must do more to show that its plug-in vehicle strategy is a good use of public money".
'Far more work'
"Carbon emissions from transport must be reduced if the UK is to meet its climate change targets, but public money must be targeted on effective policies.
"So far, Department for Transport expenditure on plug-in cars - some £11m - has benefited just a handful of motorists.
"We were warned of the risk that the government is subsidising second cars for affluent households; currently plug-in cars are mostly being purchased as second cars for town driving."
The committee said it was unclear whether the government scheme, which was part of the coalition agreement, actually encouraged demand for plug-in cars.
The government had said it expects there to be tens of thousands of these cars on Britain's roads by 2015, with the number reaching six figures by 2020.
But the committee found that following the introduction of the grants in January 2011 only 1,052 eligible cars had been registered - up from 111 in 2010.
Ms Ellman said: "Ministers should not sit back and hope that the government's policy on plug-in cars will reduce transport carbon emissions. Far more work is required to ensure that this programme is a good use of public funds."
'Low carbon revolution'
In future, the government should set targets for the number of electric cars they expect to see on the roads and establish a national registry of vehicle charge points, the committee said.
For the government, Lib Dem Transport Minister Norman Baker said there had been twice as many purchase inquiries for plug-in electric cars so far this year than for the whole of 2011.
"Electric vehicles are the arrowhead for a low carbon revolution in motoring and as more models come to market we are beginning to see sales gather pace," he said. "The robust procedures we have put in place will make sure that the scheme continues to deliver good value for taxpayers' money."
And he said it was "categorically not the case" that the scheme was primarily supporting the purchase of second cars.
"Around 75% of purchases made under the plug-in car grants have been by businesses wanting to reduce the carbon emissions and running costs of their fleets rather than by individuals wanting a subsidised second car."
'Trickle'
But fleet operators said the government had scrapped incentives for early adopters of the new technology in the Budget, making it less attractive to their members.
"The government needs to radically rethink its plug-in vehicle policy, which isn't working," John Lewis, chief executive of the British Vehicle Rental and Leasing Association, said.
"Nearly two years on from the launch of this policy, we have a huge underspend and just a trickle of plug-in vehicle sales.
"Companies and drivers still have a lot of uncertainty about this new technology and these cars aren't going to start selling in serious numbers until the government undertakes a major review of its strategy and incentives."
The trade body also wants incentives for those considering buying electric cars second hand, such as lower vehicle excise duty, exemptions from parking and congestion charges and subsidies for installing domestic charging points.
Labour said a lack of charge points was reducing take-up of the vehicles and urgent action was needed to build a truly national network and to improve information about where they are located.
The committee on climate change, which advises the government on its carbon reduction strategy, has said 1.7 million electric vehicles need to be sold by 2020 if the UK is to meet its agreed targets.