Any Questions: Was debate really better back then?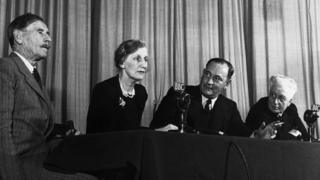 It's hard to imagine now, but until 1957 the BBC could not, under an agreement with government, report for 14 days on any matter that was to be debated in Parliament.
The reason for this was that it preserved the House of Commons as the supreme debating forum of the land and not the airwaves.
The 14-day rule, as it was called, seemed reasonable to both broadcaster and government for many years until the time of the Suez Crisis when demand for public debate simply overwhelmed both.
On one episode of Any Questions in 1956 its imposition simply united the panel in a ferocious attack on the chairman Freddie Grisewood, branding it "a lot of silly nonsense".
The 14-day rule was abolished in 1957 and the broadcast of current political debate was here to stay, which would explain why the rule's very existence has been long forgotten, judging by conversations I've had with my current political reporting colleagues. But it is just one of the unexpected insights and curiosities you get from being let loose in the BBC's archives.
For BBC Radio 4's Archive Hour series, I wanted to test the oft-voiced suggestion that the standard and quality of our public and political debate has declined in the last 50 years.
It's a question that has taken me from to the Cabinet Office in the heart of Whitehall to talk to veteran cabinet minister Ken Clarke, to the home of 87-year-old Tony Benn, to the Radio Theatre in London's Old Broadcasting House to meet Jonathan Dimbleby, the chair of Radio 4's Any Questions.
It also introduced me to the "The Banned List", Independent on Sunday columnist John Rentoul's compilation of the cliches used in public debate that actually stop us understanding or meaning anything.
'Terribly difficult question'
So has the quality of public debate declined?
It has certainly changed.
Society's attitudes as to what's acceptable to ask have moved on.
It's hard today to imagine anyone today feeling: "Would the panel accept a black African, however well educated, as a son-in-law or daughter-in-law?" was an appropriate question.
In 1962, not only was the question asked, but what really surprises is the freedom with which the panel was happy to answer what the chairman called "a terribly difficult question".
One panel member says it would be "testing Providence".
It is not just society that has changed, but the format and time allowed for debate in broadcasting.
Former Labour, SDP and Lib Dem stalwart Dame Shirley Williams misses the intellectual space long televised debates provided in what she sees as their heyday, the 1970s.
Media skills
She, and others I spoke to, see the advent of "rolling news" and "soundbite politics" as squeezing out the reasoned argument that once drove public debate forward, in favour of crafted, managed messages that fit the demands of the modern media.
There are various culprits that get targeted for blame in the hunt for any decline in public debate: political correctness, public disengagement, professional politicians, the advent of the spin doctor, and of course the increased party control over "the message".
Ken Clarke, who has had eight cabinet jobs stretching back to the early 1970s, is no stranger to the hot water a politician can land in, but he proved to be robustly free-ranging in his views.
I did just catch him sneaking looks at the adviser sat just over my shoulder to check he had not gone too far.
Asked if he can be managed, he told me with a smile: "I'm sure it happens, but not so I notice."
What is really surprising about the Any Questions archive is that fundamentals of any policy debated have not changed that much at all.
There are arguments over health and education from the 1950s and 1960s that play out as if from recent debates.
The only clue they are from the past is the distinct lack of media skills displayed by some of the participants.
They look down at their notes, they pause so long you'd think they were expecting twins, and they are given more time to make their point than a snail attempting the 100 metres.
Healthy society
Some commentators I spoke to - such as John Rentoul, former Any Questions producer Carole Stone, Independent on Sunday columnist John Rentoul and former Labour minister Tony Benn - believe the quality of debate has got better.
For them, the public's appetite for serious debate is huge, demonstrable, and we don't just want to sit back and listen.
The advent of social media has allowed Joe and Joan-who-Blogs to gatecrash the rigid confines of traditional debate and bring argument to the doorstep of power and the proof is how almost every traditional TV and Radio format is now eager for social media interaction.
Jonathan Dimbleby, who has chaired Any Questions for 25 years, believes robust, fearless public debate is a sign of a healthy society, and the more of it there is the better.
In the internet age that's not him preserving his own position - the debate online often has no chair. Rather, with the expansion of social media, debate has been opened up to far more people.
The only criteria for their being taken seriously is the quality of what they say and no longer who they are or what they do.
Whether we as a society allow that to mean debate declines or rather enjoys a bright future is, if you'll forgive the pun, debateable.
Listen to Archive on Four on BBC iPlayer (until 29 September)