David Cameron reaffirms UK aid pledge at United Nations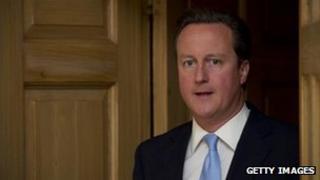 David Cameron has reaffirmed his commitment to increase Britain's aid spending, despite opposition from within his own party.
The prime minister underlined the pledge in New York, while attending the United Nations General Assembly.
He challenged world leaders to honour their promises on aid for developing countries.
He is also due to appear on one of the US's most watched television shows, Late Show with David Letterman.
The coalition has promised to hit the UN's target of spending 0.7% of the national income on overseas aid by 2013 - around £12bn a year.
But other rich nations - including Italy, Japan, the US and Germany - are falling short of the target.
Mr Cameron has faced growing criticism over the issue from some fellow Conservatives, who say much of this money ends up wasted or stolen, the BBC's deputy political editor James Landale says.
'Can't afford to wait'
During the keynote speech on Tuesday, Mr Cameron - who is co-chairing the UN meeting to plan for an international aid framework after 2015 - argued that aid should be more transparent and accountable.
He said it would be wrong to use the economic downturn as an excuse to go back on pledges to achieve the UN's eight Millennium Development Goals (MDG) to help the poorest in the world - including cutting child mortality and improving maternal health.
"The first thing we must do is send a clear message to everyone who signed up to Millennium Development Goals that now is the time to step up and honour those promises.
"And I know there are some who say we can't afford to do that right now.
"They believe we have to focus on ourselves. And if that means breaking promises, then they're sorry but it just has to be done. Well I'm sorry but it doesn't," Mr Cameron said.
"So to those who say we can't afford to act: I say we can't afford to wait."
The panel is expected to produce a report on how to progress with development to UN Secretary General Ban Ki-moon by the middle of 2013.
At a post-meeting press conference, Mr Cameron dismissed concerns voiced by some Conservatives that Britain could not afford its aid bill, due to the economic climate.
He said: "I think it is important that countries that make promises keep those promises.
"To those who are sceptical, I would say it is not only a moral obligation that the better-off countries have to tackle poverty in our world when we still have over a billion people living on less than a dollar a day, but it's also in our interests that we build a more prosperous world.
"If we don't, the problems of conflict, the problems of mass migration, the problems of uncontrollable climate change are problems that will come and visit us at home.
"So I think it's the right thing for us to do morally, and it's right to keep our promises, but it's also in our self-interest to do so."