David Cameron to appear on the Late Show with Letterman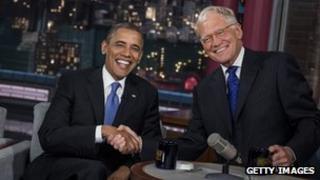 David Cameron is to appear on the Late Show with David Letterman, one of US television's most watched programmes.
The prime minister, who is in New York for a two day visit, will address the UN General Assembly on Wednesday.
He will use his appearance to "bang the drum" for British business and encourage Americans to visit the UK.
It will be the first time a sitting British prime minister has appeared on the show, which regularly achieves an audience of more than 3m viewers.
Other British politicians who have been on the chat show host include London Mayor Boris Johnson and former prime minister Tony Blair, after he had left office.
'Low blow'
While in New York, the prime minister - who is co-chairing the UN meeting to plan for an international aid framework after 2015 - is expected to repeat his commitment to increase Britain's aid spending as a proportion of the economy's size and to call for aid to be more transparent and accountable.
Officials say he will use the interview on CBS, as well as a series of meetings with New York technology firms, to promote British business and urge those watching to consider investing in the UK.
David Letterman has been a prominent fixture on late night US TV for 30 years.
He often has big name political guests on the programme including Barack Obama, who has appeared seven times in total - twice since becoming president.
Tony Blair has faced Mr Letterman twice, once in 2009 and again in 2010 - when he was asked to defend the intellect of former US president George W Bush.
In June this year Mayor of London Boris Johnson found himself under some direct questioning as he tried to sell London to a US audience.
Mr Letterman asked the mayor how long he had been cutting his own hair, which the mayor described as a "low blow".
And on the possibility of becoming prime minister one day, Mr Johnson replied memorably that he had "about as much chance of being reincarnated as an olive".
Ahead of Mr Cameron's appearance, Mr Johnson advised him to "just relax".
He said: "I'm sure the prime minister will do a spectacular job on the Letterman show.
"The crucial thing with TV chat show hosts, who are all very, very funny and clever, is not to try and think of anything to say before you get on the show.
"If you prepare something you will sound even worse than you might do."