Nick Clegg – Singing a new tune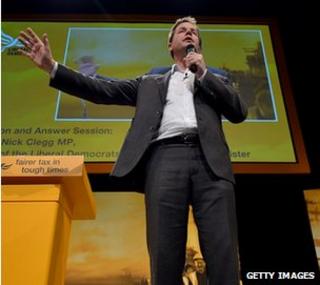 I have a confession. Late last night in a bar in Brighton I could be seen crooning with Nick Clegg's advisers and Lib Dem activists.
I was attending the Lib Dem conference's traditional Glee Club where the the songs, like many Lib Dems, are lugubrious, fatalistic and self mocking but, nevertheless, revealing.
Take the song they sang called simply "Coalition" which is a re-working of the "12 days of Christmas"
"On the fifth day of Coalition the Conservatives gave to us …
BUGG-ER ALL
A very small amount
Sweet FA
Absolutely zilch
And a referendum on AV…… which we lost!"
OK, you had to be there but you get the idea*
Many activists arrived here fearing that they were heading for a brick wall at 100 miles an hour with a driver who can't, or won't, change course.
Their party's poll rating has collapsed. Their leader is deeply unpopular. The next election offers the prospect of what, for many of them, is a Lib Dem dream - a progressive alliance with Labour. Yet, surely, they calculate, the Clegg/Cameron marriage will make that impossible.
Few are seriously contemplating forcing their leader out but, as a result, they fear they may be doomed to their worst election drubbing in years.
Today in his leader's speech Nick Clegg has to prove that song wrong and give his party a new tune to sing. He will tell the Lib Dems that at the next election they will be one of three - not two - parties of government and they will be able to present themselves as a party more trusted with the economy than Labour and more trusted with society than the Conservatives.
In other words, the past - before the cuts, the compromises with the Tories and the broken promises - is just that, the past.
It's not as catchy, not as much fun, not as reassuringly gloomy as the Glee Club's tune but, he figures, it might just catch on.
* You can hear the singing for yourself on BBC Radio 4's World at One. Incidentally, the rest of the words starting with the twelfth day are:
"Just a meagre helpingMere pecadillosNot a bleeding sausageNaught they would missJust a meagre smidgeon Nothing you would noticeVery little really …