Alan Johnson: Ed Miliband 'must lead on economy'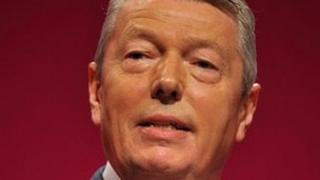 Ed Miliband must use next week's Labour conference to explain what he would do to fix the economy, former Home Secretary Alan Johnson has said.
Writing in The Guardian, Mr Johnson says it is not enough for the Labour leader to rely on the unpopularity of the Tories to win the next election.
Mr Miliband did not need to announce detailed policies at this stage, argued Mr Johnson.
But he must show leadership and set out an "alternative" strategy.
The Labour Party is 10 points ahead of the Conservative in the opinion polls as it heads to Manchester for its annual conference, at the weekend.
But polls suggest Mr Miliband still lags behind David Cameron when it comes to who people would prefer as prime minister.
"While I don't believe that a prime minister who is more popular than his party can deliver an election victory, it does suggest that Ed Miliband has to do more to demonstrate that he is a leader," writes Mr Johnson.
The veteran former minister was Mr Miliband's first choice as shadow chancellor when he won the party leadership in 2010 but quit after it emerged his wife was having an affair. He remains a popular and influential figure on the centre right of the party.
He said he did not expect Mr Miliband to reveal what was in the next Labour manifesto at its conference - but he did need to "flesh out the thinking" behind his 2011 party conference speech, in which he attacked "predator" capitalists, and his thinking on other core policy ideas.
"For Ed, explaining how he would separate retail from investment banking, what measures he would take to tackle youth unemployment, and what plans he has to curb the 'snouts in the trough' greed of corporate executives would be a start," he writes.
Summing up his argument, Mr Johnson said: "We can't rely on the unpopularity of a maladroit chancellor, a washed up health secretary and a chief whip who believes that police officers are plebs.
"The mantra that it's all Labour's fault has been overtaken by the economic ineptitude of the coalition.
"Ed Miliband now has the chance to show that there is an alternative. But there is no use earning the right to be listened to if you have nothing to say."