Lib Dem Trident plan is a 'fallacy', Labour MP says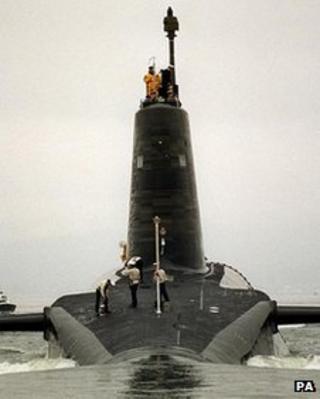 A former Lib Dem defence minister's claim that there is a viable alternative to Trident is a "fallacy", Labour MP John Woodcock has said.
The MP told the BBC that Sir Nick Harvey was peddling a "pretext" for abolishing the nuclear weapons system.
But Sir Nick said that Trident should not be renewed primarily to keep submarine engineers in work.
Mr Woodcock represents Barrow and Furness, where any replacement submarines would be made.
In a debate on BBC Radio 4's The World at One, he argued that "all the options" had been fully scrutinised in previous studies of the UK's submarine-based nuclear arms.
"They found that actually this idea that there is an off-the-shelf, cheaper version is a fallacy," he said.
"It is a fantasy, peddled by people, many of whom are in the Lib Dems, who you suspect ultimately don't want an independent nuclear deterrent at all but realise that it is electorally difficult for them to say that."
Sir Nick had suggested to a fringe event at the Liberal Democrat conference in Brighton on Wednesday that it would be cheaper to pay the workers to go and live in the Bahamas than to replace the UK's nuclear weapons programme.
In response to Mr Woodcock's comment, Sir Nick said he accepted that keeping highly skilled UK submarine construction workers in employment was an important factor in the decision.
Dire consequences
"We're going to continue needing submarines as far into the future as I can see, and we're jolly lucky to have the professional and capable set-up that we have got there at Barrow," Sir Nick said.
But, he continued, the "hierarchy of consideration should be first the military consideration, secondly the financial consideration for the state as a whole, and that those should then give rise to the industrial - and not the other way round".
He added: "Frankly I don't think we should produce weapons of mass destruction, and spend £30bn at the outset and perhaps £100bn over the lifetime, for primarily industrial purposes."
But Mr Woodcock maintained that a decision not to replace Trident could have dire consequences for the UK's national interest.
"We have got to bear in mind as a nation how we continue to have the capacity to build submarines into the long-term," he said.
"The enormous problem that the last Conservative government experienced in in the 1990s was that they left a gap in the order book and it has proven very difficult to get back into the business of building the Astute-class submarines at all.
"If you left a substantial further gap, you may find that the UK could never again produce its own submarines, and that would be a grave risk."
Sir Nick told party activists at the fringe meeting there was a "realistic chance" of securing a different outcome to renewing Trident, but the Lib Dems would need to build a "broad coalition of support" first.
He warned his party against adopting an "intellectually satisfying" policy with which no-one else agreed. The Conservatives are committed to renewal but many Lib Dems oppose it.
A decision on whether to proceed with Trident renewal has effectively been pushed back until after the next election - scheduled for 2015.
Experts say maintaining a continuous at-sea deterrent for the next generation will cost between £25bn and £100bn to build and operate.
Until he lost his job as armed forces minister in the reshuffle earlier this month, Mr Harvey was in charge of a value-for-money study looking at the feasibility of alternatives to Trident.
He said he hoped the report - when it is published next year - would provoke a debate on what future capability the UK needed and what the country could afford.