New EU referendum party holding first conference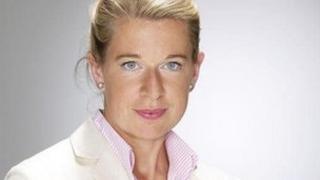 A former Apprentice contestant and several ex-UKIP politicians are among those attending the first meeting of a new party calling for a referendum on the UK's membership of the EU.
The We Demand a Referendum party was launched last month by Nikki Sinclaire, a member of the European Parliament.
The party, whose slogan is "let the people the decide", is holding its first conference in central London
Ms Sinclaire, who left UKIP in 2010, insists the party is not eurosceptic.
The party's leading figures also include Roger Knapman - who led the UK Independence Party until 2006.
'Distraction'
Ms Sinclaire says We Demand a Referendum will stand candidates in every region in 2014's European elections unless Prime Minister David Cameron sets the date for a vote to decide whether or not the UK remains a member of the European Union.
"We've proven that six out of 10 people now want a referendum on this issue," she said.
"It is time to let the people decide. If Mr Cameron won't give us a vote, then we'll simply demand one at the 2014 European elections".
A spokesman for the UK Independence Party, which has long campaigned for the UK to exit the EU, described We Demand a Referendum as a "distraction".
"You've had a whole range of withdrawlist parties and independent candidates standing and all have sank without trace," he said. "Their heart's in the right place but we feel the same will happen in this instance."
Other issues
Joining Ms Sinclaire at the party's inaugural conference on Friday are Katie Hopkins, a former contestant on the BBC's Apprentice show, and the right-wing broadcaster Charlie Woolf.
Ms Hopkins told the BBC's Daily Politics in September that the party is also campaigning on issues such as traveller sites and fighting for small businesses.
Party founder Ms Sinclaire was suspended from UKIP in 2010 and subsequently expelled.
She has since won a sex discrimination claim against the party and, until recently, sat as an independent in Brussels.
Last year she was behind a petition of 100,000 signatures calling for a referendum on the UK's future relationship with the EU.
The petition led to a House of Commons debate on the issue and 81 Conservative MPs defied David Cameron to support an "in-out" vote.