Chris Huhne speeding trial adjourned to next year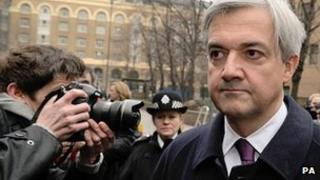 The trial of former cabinet minister Chris Huhne and his ex-wife Vicky Pryce over alleged speeding offences has been adjourned until January.
Southwark Crown Court was told on Friday that the postponement was due to legal reasons and the trial will resume on 14 January 2013.
Mr Huhne is accused of persuading Ms Pryce to take his penalty points for a 2003 speeding offence.
Ms Pryce faces the same charge for allegedly saying she was the driver.
The pair, who were married for 26 years, face charges of perverting the course of justice.
Mr Huhne resigned as energy and climate change secretary earlier this year after he was charged and vowed to fight the allegations in court.
In June, Ms Pryce pleaded not guilty to the charges against her.
At the time, the Lib Dem MP for Eastleigh did not enter a plea as lawyers said he would try to dismiss the charge against him at a future hearing.
The accusations emerged only in 2010 after Mr Huhne had admitted an affair with his PR adviser, Carina Trimingham, and ended his marriage.
The decision to prosecute followed an eight-month investigation by Essex Police.