Tory conference: Ken Clarke warning for Boris Johnson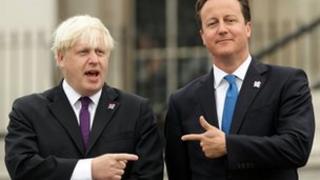 Talk of Boris Johnson becoming prime minister is "disastrous" for him, cabinet minister Ken Clarke has said.
He told a Tory conference meeting he thought Mr Johnson was "interested in treading the boards" and should focus a bit more on "governance".
The London mayor has been touted as a possible alternative to David Cameron as Conservative leader.
Mr Clarke, a veteran minister, was demoted from justice secretary in the recent cabinet reshuffle.
Speaking at a conference fringe meeting he described Liberal Democrat leader Nick Clegg as a "one nation Conservative" and told the meeting that Mr Clegg referred to him as the "sixth liberal in the cabinet".
When asked about hints that David Cameron could promise a referendum on Europe, Mr Clarke said people should be "cautious" when predicting such a promise in the next Tory manifesto.
He told the meeting: "Referendums never struck me as a great way of running a modern state."
And he described some Eurosceptics in his own party as "extreme right wing nationalists", saying Britain's approach to Europe should be "pragmatic" and not "driven by ideology or theology".
Boris Johnson said in a BBC interview at the weekend that any changes to Britain's relationship with the EU should be put to the country in a referendum.
When asked whether he would like to be prime minister, Mr Johnson would only say that he wanted to be mayor for the next four years. "After four years are up, heaven knows," he said.