Tory Conference: Most councils 'mediocre,' says Ben Gummer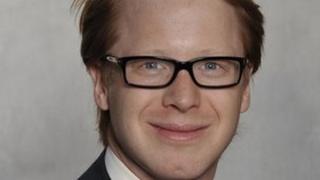 A Conservative MP says many local councils are "self governing oligarchies of mediocre people".
Ben Gummer, who represents Ipswich, was speaking at a fringe event at the Conservative Party Conference organised by the 2020 group of Tory MPs.
The group sees itself as a factory for radical political ideas.
He suggested shaking up local government so that councillors solely representing local businesses could be elected to town halls.
Mr Gummer acknowledged the idea "had no hope of getting into a manifesto" but pointed to the City of London, as a model for how his idea works in practice.
The City is governed by the Corporation of London, which is the oldest local authority in England having been founded in medieval times.
Elections there give votes to both firms and residents.
Mr Gummer described his own local authority, Labour-run Ipswich Borough Council, as all too often "getting in people's way" and "frustrating ambition."
"The calibre of many councillors often leaves something to be desired," he said.
"Most of them can't read a balance sheet. Business councillors could release aspiration.
"Growth has always been an urban phenomenon, from renaissance Florence to modern day Africa and China.
"Cities are the most powerful weapon ever invented against poverty. But we are far behind in making them work."
Councillor David Ellesmere, the leader of Ipswich Borough Council and Labour's prospective parliamentary candidate for the town, who will be bidding to unseat Mr Gummer at the next election has hit back at the claim.
He told BBC News: "the one thing that is holding businesses back in Ipswich more than anything else is the state of the economy, and the government is to blame for that."
The Local Government Association, which represents councils, said: "Councils now need to be given more powers, flexibility and freedom to promote further economic growth, allowing taxpayers and public services to benefit from local prosperity and avoid making damaging frontline service cuts."