David Cameron reveals his inner Tory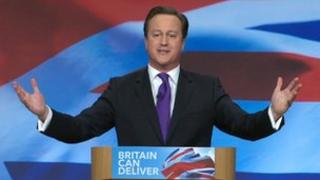 The general election may be three years away but David Cameron has begun his campaign. He used his conference speech to set out explicitly what he called the battle lines for the election and they run a little like this:
Labour, he claims, do not understand how serious the global economic situation is; the Conservatives do. They accept that the economy is worse than expected, and it will take longer to fix than planned. But progress is being made.
The government is trying to fix the economy not just by cutting the deficit, and eventually debt, but also by trying to get the economy into the right shape so it can compete internationally. That means simplifying planning laws so firms find it easier to build. That means creating more free schools and academies so that there is a better educated workforce. And that means reforming welfare so that more people are encouraged into work.
In other words, he presented an argument that tied together everything the government is doing, and the unifying theme was aspiration. He argued that by encouraging aspiration, the government could also encourage growth. And crucially he said that building what he called an "aspiration nation" was not just an economic mission, it was also a moral one. Reforming welfare, improving schools and creating jobs would help not just those who want to be better off, but it would also help others out of poverty.
And in so doing Mr Cameron revealed his inner Tory, perhaps for the first time in such clear, authentic terms Tory. For years many Conservatives have scratched their heads and wondered what makes the prime minister tick. Is he a metropolitan, liberal Conservative who hugs hoodies and huskies? Or is he a rural, right-wing Conservative with traditional views on Europe and law and order?
Today the prime minister's answer was that he may be an old Etonian from Berkshire with a stockbroker for a father, but he is not on the side of the better off, he is on the side of those who want to be better off. He is not a "cartoon Conservative" who does not care, but a compassionate Conservative who supports anyone who aspires to get on. In his most telling phrase, he said: "I am not here to defend privilege, I'm here to spread it."
Mr Cameron claimed that Labour, by contrast, did not get how serious the situation was. He talked of hard truths and painful decisions, a grave moment and an hour of reckoning, a serious risk that Britain might not remain a major industrial country. Labour, he said, was a party not of one nation, but of one notion, namely borrowing more to try to stimulate the economy, a notion that the prime minister claimed was a massive gamble that would lead to higher interest rates.
So, thus Mr Cameron's argument. A few thoughts in response:
1. It is extraordinary that seven years into the leadership of the Conservatives Mr Cameron is still having to define himself and tell his party what he is about. The world has certainly changed substantially since 2005 and he has had to change with it - no more sunshine winning the day and sharing the proceeds of growth - but it is still noteworthy that he felt the need to explain himself once again.
2. One answer to the point above is that he chose to define himself again because his opponents have spent so much time claiming he was an out of touch old Etonian who was favouring his rich friends with tax cuts. To that end, it was interesting that a substantial part of his speech was a rebuff to Labour's attacks last week.
3. A clear part of the Tories' strategy now will be not just to remind voters of the economic legacy they were left by Labour, but also to remind them of how serious the global situation is. Tory aides fear that many voters have forgotten just what is going on in Europe and elsewhere. They need to do this so that they can have the space to argue that a vote for Labour is more of a risky prospect. In other words, always keep a hold of nurse for fear of finding something worse.
4. This was a speech notable for its absences. Nothing on the coalition, nothing on police and crime; Europe, health and the environment barely touched on. Much of the redder meat - such as spending cuts and bashing burglars - had been left to other ministers earlier in the week. This cleared the way for Mr Cameron to focus on his positive, aspirational Toryism.
5. The bottom line is this. David Cameron today made a strong argument about how he thinks he can make the country more competitive. His conference slogan was "Britain can deliver". The question now is whether his government can deliver? The planning reforms will take some time to kick in, there are many schools that are not yet academies and the welfare reforms are very much a work in progress.
So Mr Cameron has an argument. The test is whether he can make it happen.