Andrew Mitchell to meet local police officers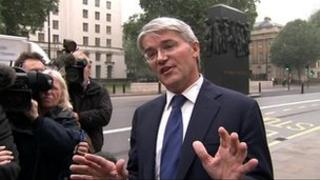 Chief Whip Andrew Mitchell is to meet members of the West Midlands Police Federation following his outburst at officers outside Number 10.
Mr Mitchell has apologised for his conduct in the row but denies calling the officers concerned "plebs".
The PM and senior officers have said a line should be drawn under the matter, but pressure on Mr Mitchell continues.
The Birmingham MP, who missed the party's conference in the city, will meet privately with local officers.
A leader in the Daily Telegraph on Friday called on Mr Mitchell to step down from the cabinet saying he is now a "laughing stock" and a "walking, talking embodiment of everything with which David Cameron would least like his party to be associated".
'Discourteous'
Mr Mitchell's future was the source of speculation during the Tory conference, despite Mr Mitchell's absence, with ministers repeatedly asked about the incident.
Ken Mackaill, chairman of the West Mercia Police Federation, said: "We want to get to the bottom of this matter, hear what Mr Mitchell has to say and hopefully move forward from here.
"Mr Mitchell has apologised for being discourteous to the police officers at Downing Street but has denied using the words attributed to him.
"We want to ask him exactly what he did say. As it currently stands, there is an implication that the officers' accounts are not accurate."
Last month police officers protested outside Mr Mitchell's constituency office wearing T-shirt with the words "PC Pleb and Proud" printed on them and representatives have called for a full inquiry into the matter.
During a visit to Bristol on Thursday, Ed Miliband said Mr Mitchell needed to provide further clarity.
"I think the terrible thing about the Andrew Mitchell episode is we still don't know the truth," he said.
"We still don't know what he said, what he said to our brave police officers, and he has got to come forward with an explanation... the prime minister has got to make him come forward, and make him say what he actually said to our police officers and nothing less than the truth about what happened in the Andrew Mitchell affair will do."