Downing Street denies Cameron and Osborne cat feud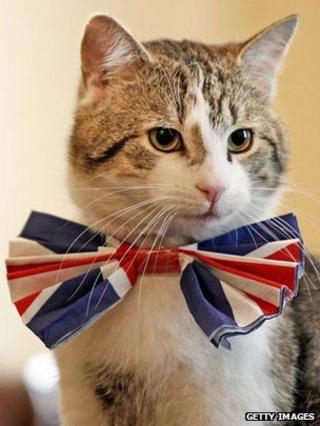 Downing Street has denied rumours of a feud between cats belonging to the chancellor and prime minister after they were pictured fighting.
George Osborne's Freya was photographed slugging David Cameron's Larry with a nasty-looking left claw, the evidence being posted on Twitter.
But the PM's spokeswoman insisted the two tabbies were able to "co-exist".
She added that she would not "get into commenting on the adventures of our feline friends".
Residents of Numbers 10 and 11 Downing Street have historically disagreed strongly over policy.
Labour's Tony Blair and Gordon Brown were reportedly often left hissing over public sector reform impasses.
But Mr Osborne and Mr Cameron are thought to be among the more friendly prime minister-chancellor teams of recent decades.
Five-year-old Larry, in fact, has sometimes been castigated for a lack of aggression, and his suitability for "mousing" duties was questioned as a result of repeatedly falling asleep on the job.
The Political Pictures snap seems to confirm Freya's dominance. In it she bats Larry away, while he raises his right paw in what could be placatory fashion.
Larry came to Downing Street from Battersea Dogs and Cats Home in February last year after a large rat was seen scuttling past the door of No 10 during live television broadcasts.
Freya went missing from the Osbornes' old home in Notting Hill, west London, for two years, her owners being identified when a vet found the details on a microchip. They were reunited last year.
Perhaps hardened by her time on the road, Freya has been drafted in for pest control duties, in an arrangement described by the Daily Mail as a "job-share to avoid hurting Larry's feelings".