Cameron hiding 'salacious' emails, says Labour MP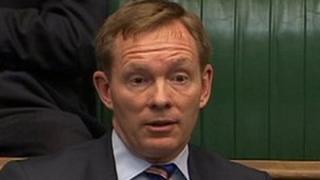 Labour MP Chris Bryant has said the prime minister has "something to hide" over his correspondence with Rebekah Brooks and Andy Coulson.
Mr Bryant said David Cameron's refusal to deny the "stash" showed there were emails of a "salacious" nature.
Earlier, the PM refused to answer a question from Mr Bryant about whether unpublished correspondence existed.
He said the MP still owed him apology for an earlier accusation in April that he had misled Parliament.
A report in the Independent on Tuesday claimed that Mr Cameron withheld some private emails, between himself and former News International executives Mr Coulson and Mrs Brooks, from the Leveson inquiry after seeking personal legal advice.
Mr Coulson worked as Mr Cameron's media adviser after resigning from News International.
A Downing Street spokeswoman told the newspaper: "In common with previous prime ministers, the PM sought legal advice in order to co-operate fully with a judicial inquiry."
She said "no further relevant material had been found" following Mr Cameron's appearance at the Leveson inquiry.
The Labour MP, who has been been heavily involved in the campaign to expose phone hacking, said it was "scandalous" Mr Cameron had refused to answer his question and went against the Ministerial Code.
'Stool pigeon'
He said: "I cannot understand - and I don't think our constituents will understand - why he should think himself able to declare that he will not answer a particular question from somebody, apparently just because he doesn't like them.
"I happen to think the prime minister did it because he has something to hide.
"He made it perfectly clear that he chose not to deny the fact that there are additional emails between him and Rebekah Brooks and Andy Coulson, which are of a salacious and embarrassing nature to the prime minister, which he refuses to publish.
"He could have chosen to deny that today. It seems to me absolutely clear that there is such a stash... and he should publish these as soon as possible."
Mr Bryant was leading a debate on parliamentary language, which is governed by rules laid down in Erskine May - the bible of parliamentary procedure.
The MP for Rhondda said the publication was one of the most "regularly ignored books in English literature" and was responsible for entrenching "archaisms of the past" in the way in which MPs spoke in Parliament.
His comments followed angry exchanges with Mr Cameron earlier at Prime Ministers Questions.
Mr Bryant said the emails should be published, "so we can judge whether they are relevant".
Mr Cameron replied: "Before answering this question, I would like everyone to recall you stood up in this House and read out a whole lot of Leveson information which was under embargo and you were not meant to read out, much of which turned out, about me, to be untrue, and you have never apologised.
"Until you apologise, I'm not going to answer your questions."
Earlier this year the Commons Speaker, John Bercow, controversially ruled that Mr Bryant could accuse former Culture Secretary Jeremy Hunt of lying to Parliament over his handling News Corp's proposed takeover of BSkyB - something Mr Hunt denied.
However, more recently Newport West MP Paul Flynn was banned from the House for a month for accusing the Defence Secretary Philip Hammond of lying to Parliament over the conflict in Afghanistan.
In the debate on parliamentary language, Mr Bryant pointed out a number of inconsistencies in the way in which the rules were applied and argued against the way MPs are expected to call each other "honourable members" or by the names of their constituencies.
He said: "Tom Watson [a Labour MP]... was told off for using the word 'pipsqueak' in 2010, on the 8th of July.
"And yet the words 'stool pigeon', 'hooligan', 'blaggard', 'idiot' have all been used at various times by honourable members and they've never been told off."
Mr Bryant said it was time for a greater degree of consistency on what was considered to parliamentary and unparliamentary language and a full redraft of Erskine May was needed.
Responding to the debate, the deputy leader of the House, Tom Brake, said such language allowed parliamentarians to keep a distance from other MPs and "lowers the temperature" of the debate.
He added that Mr Bryant's concerns would be raised with the Procedure Committee, which looks into the workings of the Commons.