AgustaWestland to create hundreds of jobs in Yeovil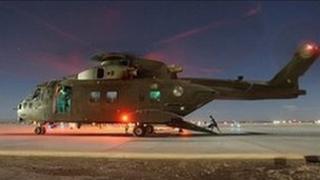 Hundreds of jobs are to be created in Yeovil after AgustaWestland announced it was to start building more civil helicopters.
The company wants to reduce its reliance on military aircraft as government defence budgets are cut.
Chairman Graham Cole said about 1,700 jobs will be created in the UK, with the same number being safeguarded after it received a £100m funding boost.
Yeovil has previously only made the Lynx and Sea King military aircraft.
The company said it is to receive up to £46m from the government's Regional Growth Fund while the rest is from the private sector.
In July, the firm announced it was to create 1,500 new jobs, with about 450 of them based in Yeovil, to work on developing a fleet of search-and-rescue helicopters.
The latest funding is to be spent on a civil helicopter hub which includes an assembly line, however it is not yet known what the first helicopter to roll off that line will be.
In April next year, the Department for Transport will decide which company will get a new contract to provide search-and-rescue helicopters for the UK.
Agusta is hoping the firm that wins that will choose to use its new helicopter the AW189.
'Important recognition'
Mr Cole said the company needed the public money as the company knew national and international government budgets for military helicopters would reduce.
"We invest all the time in the company and the amount of investment over the last few years is significant but you do look for government support.
"It's not only important in terms of the grant, but it's also important in the recognition that comes with it of how important the industry is to the government."
Yeovil MP David Laws said: "This is a real game-changer for Yeovil - and is one of the most important announcements made during my 11 years as MP for Yeovil."