Bristol mayoral election: What can 'Bristolian Boris' achieve for city?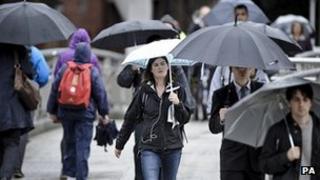 In referendums held during May, 10 cities in England were given the chance to ditch their council leader and have a mayor instead.
Nine of them, Birmingham, Manchester, Newcastle, Nottingham, Sheffield, Wakefield, Coventry, Leeds and Bradford, said "no."
But Bristol said "yes" and on 15 November, the city will go to the polls to elect a mayor for the first time.
So why did Bristol stand out from the crowd?
Jaya Chakrabarti, who led the Yes Campaign in the city, puts it like this: "When everyone else zigs, Bristol zags.
"What we have had with the to-ing and fro-ing of whether or not we get a stadium for Bristol City Football Club is a perfect metaphor for what we've got here.
"It's been a perpetual scoreless match, where no-one manages to get a goal and it's been going on for years and years and years. I think people who came out to vote that day and voted yes recognised we have to try something different."
For Colin Skellett, the chairman of the West of England Local Enterprise Partnership, which tries to drum up business for the area, the mayor will be a useful ambassador for twisting arms in Whitehall and securing jobs in Bristol.
"I was looking at some footage of Bristol in the 1920s and 30s recently," he tells the BBC. "The second city in the country. An enormous amount of civic pride and an enormous amount of power to do things locally.
"I think it is about taking that power back and enabling local people to decide for themselves how they want to manage their own affairs. The mayor is a key step along that road."
Boundary worries
Sitting on a park bench, I have a chat with Pip Sheard, a campaigner with the Transport for Greater Bristol Alliance.
The bells of the cathedral are ringing to our left; the Council House, the home of local government in the city for the last half century, is across College Green to our right.
As buses and cars trundle past behind us, she reflects on her daughter's recent trip to London.
"She decided that an integral part of her trip would be to try a Boris Bike. She's not normally on a bike in Bristol. It shows how that idea has really taken off," she tells me.
The mayor of London and his bike hire scheme in the capital, is, arguably, the archetypal case study for advocates of the mayoral model. To put it another way, the power of personality and the clarity of their ideas was a key part of David Cameron's pitch for cities to switch to a mayor.
But there is nervousness here. Suggestions of a 'Bristolian Boris' are misplaced and the comparison counterproductive, observers say.
"There is a real problem in Bristol at the moment," Gez Smith, the founder of the Bristol Democracy Project tells me.
"The boundaries for the city council don't match the urban conurbation, the extent of the city itself. It is arbitrary. There are people who will be very much affected by what the mayor does but have absolutely no ability to have their say on the mayor, because they live in a different county."
Mr Smith set up the project after fewer than one in four Bristolians bothered to vote in the referendum to introduce an elected mayor.
Much more needs to be done to engage and enthuse people to participate in local democracy, he argues. If the distinct lack of posters and assorted other election paraphernalia in Bristol city centre is anything to go by, he is right.
Powers and pay
So what powers will Bristol's mayor have? And how much will they be paid?
Both are yet to be fully nailed down. The winner will have all of the executive powers of the council except those that are quasi-judicial, such as planning and licensing.
The government also promises what it calls "bespoke powers tailored to local needs", which will be up to the new mayor to negotiate.
They could include devolving clout over transport, housing and economic development.
As for their wages, they are likely to add up to about £65,000 - about the same as an MP.
But the fear the new mayor will be geographically hamstrung is widely held.
The campaign in Bristol is being keenly watched by Robin Hambleton, who is Professor of City Leadership at the University of the West of England and was an adviser to Tony Blair when a mayor was introduced in London.
"The boundaries are really quite difficult," he admits.
"Bristol City Council rules only part of the city region. What they should have done is introduce metro mayors, in other words leaders for the whole city region, as we have done in London. I am still mystified as to why they didn't do that, it would have been way more sensible"
For others the idea of a so called metro mayor was democratically too big an ask; those arguing for the status quo too strong.
'Boris in every city'
So how is the mayoral model Bristol will have going down 180 miles north in a city that has already introduced it?
"It didn't exactly get Liverpudlians rushing to the polls to elect the mayor, Joe Anderson, back in May," Jon Tonge, Professor of Politics at the University of Liverpool, says.
"In fact the turnout for the mayoral election was actually down on the previous year's local elections.
"So although David Cameron talked about putting a Boris in every city the fact is the Mayor of London has a much greater strategic role. What a city mayor has is some strategic pots of money so they can prioritise a few issues, but the idea they can transform a city's fortunes is frankly absurd."
But the historical and global context, argue some observers, suggests Bristol and Liverpool's democratic direction is part of a bigger trend that will catch on more broadly.
"Academics have been studying the idea of directly elected mayors for the UK since the 1960s," Prof Hambleton concludes.
"If you look internationally, you can see quite a strong movement towards stronger leadership models for cities.
"So some countries that did not have elected mayors have now introduced them across the whole country, such as Italy and Germany. New Zealand has just recently introduced a strong mayor for Auckland. I think you can see a wider international current in favour of stronger leadership which I think the English moves will be part of."