Cameron GDP row: Watchdog urges review of data release rules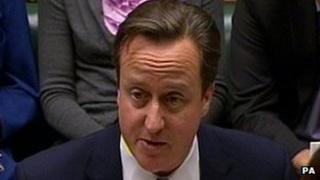 The statistics watchdog has said rules on the advance release of key economic data to politicians should be reviewed after a row over the growth figures.
Figures published on Thursday showed the UK had exited recession, less than 24 hours after David Cameron told MPs good economic news "will keep coming".
The UK Statistics Authority said the PM's comments were "widely interpreted" as giving an indication of the data.
No 10 has insisted the prime minister was just making a general observation.
A select group of ministers and officials - including the prime minister, the chancellor, the deputy prime minister, the business secretary and the governor of the Bank of England - have access to market sensitive information about economic indicators a day in advance.
The access is granted strictly on the basis they do not disclose the information or "any suggestion of the size or direction of any trend indicated by that statistic".
'Confidence undermined'
The watchdog has looked into suggestions Mr Cameron may have broken the embargo on Thursday's GDP figures - showing 1% growth between July and September - when he struck an upbeat note on the economy at Prime Minister's Questions on Wednesday.
He told MPs inflation and unemployment were down and the "good news will keep coming" - comments which Labour said were a big "hint" about the growth data and tantamount to playing "fast and loose" with the pre-release rules.
In a letter to Mr Cameron, the watchdog said a "large number of commentators" raised concerns about a possible breach of the rules.
"It is clear from media reports that, although this may not have been your intent, your remarks were widely interpreted as providing an indication about the GDP figures," its chairman Andrew Dilnot wrote.
Mr Dilnot said the current rules were "unsatisfactory" as they put those entitled to see the information in advance in a "difficult position" if they then had to speak in public and urged a review of the procedures.
"The interpretation of your remarks is a clear example of the difficulties and risks created by the current arrangements," he added.
"It is our view that the current pre-release access arrangements undermine public confidence in official statistics and the professional independence of statisticians."
No 10 has insisted the PM was not referring to the data but to general signs of progress in the economy.