Housing benefit changes: Warning over affordable housing shortfalls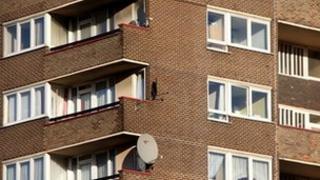 Nearly half of councils in England face shortfalls in affordable housing as a result of government welfare reforms, a spending watchdog has warned.
The National Audit Office said increasing housing allowances in line with inflation rather than local rents could lead to "significant problems".
It also suggested nearly 90% of claimants know little or nothing about housing benefit cuts.
The government said it was "restoring fairness" to the system.
Under plans first announced in 2010, about two million households will see state support for housing cut, with a small number facing big reductions.
There will be a cap on rents and overall benefits while under-35s will only be able to claim the cost of shared accommodation.
The National Audit Office (NAO) highlighted potential issues with a number of the reforms, saying the government had "little firm evidence" about the likely impact on claimants' behaviour or the costs of introducing the changes.
'Deeply worrying'
There was "limited awareness" among the 1.4 million people expected to be directly affected by the change - with more than half totally unaware of the shake-up and only 13% saying that they knew a fair or great deal.
The watchdog also raised concerns about the decision to uprate local housing allowance - which covers private accommodation - by the CPI rate of inflation rather than pegging it to average rent rises in an area.
It said the move could "put pressure" on the availability of affordable housing as people moved to areas where rents were cheaper. Its research suggested 48% of councils would no longer be able to meet in full the rents of half of all claimants - the present proportion - by 2017.
"The Department for Work and Pensions is working to manage the introduction of the housing benefit reforms, but their full impact is currently uncertain and depends on how households and the housing market react, locally as well as nationally," said NAO boss Amyas Morse.
"The department has a crucial role to play in anticipating and addressing adverse consequences for claimants and the administration."
Labour MP Margaret Hodge, chairwoman of the cross-party public accounts committee, said there was the potential for "sudden and unmanageable population movements" between inner and outer London and potential housing shortfalls were "deeply worrying".
"This would impact not only on demand for accommodation but also put huge pressure on local health and education services."
She called on the Department for Work and Pensions to do more to prepare people for the impact of the cuts and to assess whether councils are "capable of shouldering the additional administrative burden".
The DWP said the reforms would ensure that people on benefits could no longer live in homes that most working families cannot afford - while providing transitional support for those in the most difficult situations.
"Even with our reforms, housing benefit will meet rents of up to £21,000 a year and apart from the most expensive areas in London around a third of properties will still be available to rent," a spokesman said. "Our reforms restore fairness to a system that was left to spiral out of control."