Lords vote on constituency boundary review delayed again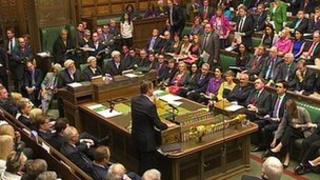 The government has once again postponed a vote in the House of Lords on plans to delay a review of constituency boundaries.
Peers were expecting to vote on an amendment to the Electoral Registration and Administration Bill on Monday that would postpone any redrawing of English parliamentary seats until 2018.
But government sources confirmed the vote had been delayed to an unspecified date.
They said Lords officials had ruled that the Labour amendment - backed by Lib Dems - was not relevant to the bill and could not be voted on.
The Conservatives want the boundary review to take place because they believe they would benefit from it electorally by the reduction in the number of seats from 650 to 600.
But the Lib Dems oppose the review because they believe it would cost them seats and because they are angry the Conservatives opposed their plans to reform the House of Lords.
Changes to constituency boundaries were approved in principle by Parliament last year and, despite the political row over when they should come into force, a review by the Boundary Commission is continuing.
But the Lib Dems say they will oppose the implementation of the proposed changes in time for the next election, scheduled for 2015.