Duncan Smith: Welfare changes will make living wage easier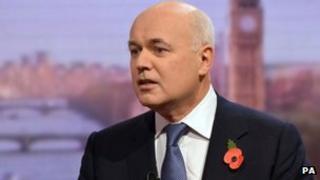 Changes to in-work benefits will increase incomes, making it easier to ensure firms pay staff a "living wage", Iain Duncan Smith has said.
The work and pensions secretary's prediction comes as Labour is urging employers to increase salaries or face being named and shamed.
A living wage, described as that needed to live comfortably, is defined as £7.20 an hour, or £8.30 in London.
A recent study suggests a fifth of workers are earning below this level.
Mr Duncan Smith is setting up policies he says will make work more profitable than claiming unemployment, including a cap on out-of-work payments and creating a universal credit to replace several existing payments for those in low-paid work.
He told BBC One's Andrew Marr Show: "I think it's important because there's no question now that we have an issue about in-work poverty and that's the bit I'm trying to tackle.
"Universal credit, the new benefit, actually shifts 80% of the money down to the bottom 40% who are in work essentially. And that will hugely boost their incomes and so eradicate a lot of that.
"Now that will leave it possible for businesses to think about then topping up to a living wage."
'Stake in the future'
The living wage is voluntary, unlike the National Minimum Wage - the amount that employers must pay by law - which is set at £6.19 an hour for those aged 21 and over.
One in five workers in the UK is paid less than the living wage, a report by accountants KPMG suggested last week.
In an interview with the Independent on Sunday, Labour leader Ed Miliband said a living wage was part of his "One Nation" vision to share prosperity.
The party is looking at ways of making the pay terms the new norm, including naming and shaming listed companies who do not pay it.
It is also considering introducing rules that will see Whitehall contracts awarded to firms who pay workers the living wage or above and giving Treasury-funded incentives to companies who introduce the wage structure.
Mr Miliband said: "We've got a growth crisis in Britain but we've also got a living standards crisis, because the proceeds of economic growth are not being fairly distributed any more.
He added: "It is about giving people a proper stake in the future of the country."
Incentives for employers
Mr Miliband's brother David has also backed the living wage campaign.
Writing jointly with Unison general secretary Dave Prentis in the Observer, the former foreign secretary suggested local authorities and other employers could be offered financial incentives for insisting private contractors pay the living wage.
"Our living wage campaign involving unions, students and voluntary organisations is sometimes quietly, sometimes noisily, changing lives," they wrote.
They added that progress depended on finding incentives to "persuade reluctant employers that it's in their interests as well."
The Institute for Fiscal Studies estimates that for every person moved on to the living wage, the Treasury would save about £1,000 from less spending on tax credits and from increased tax revenue.
A number of major firms already pay workers and contractors a living wage or higher.
Barclays has paid the living wage in London since 2007, while 19 local authorities have been accredited as "living wage employers".
The KPMG report suggested that Northern Ireland had the highest proportion of people earning below the living wage, at 24% of workers, followed by Wales at 23%.
The lowest levels were in London and the South East of England, both at 16%, it said.