Boris Johnson urges Tories to hire Lynton Crosby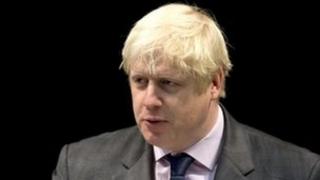 Boris Johnson has urged David Cameron to hire Australian election strategist Lynton Crosby as the Conservative Party's campaign manager in 2015.
Mr Johnson advised the Tory leader to "break the piggy bank" to secure the services of the strategist, who ran the London mayor's re-election campaign.
Mr Johnson was speaking after addressing a meeting of the 1922 committee of Conservative backbenchers.
He was greeted with cheers and hammering of desks when he appeared.
The London mayor said the country had the right prime minister in Mr Cameron who was "first rate, a world class prime minister as every opinion poll testifies".
His aides insisted his appearance at the committee had nothing to do with speculation he is keen to lead the Conservative Party. He had been invited to speak after his election victory in June, they added.
He gave the MPs tips on how to win the next election, based on his experiences in London and told them: "I hope very much we are going to get the right campaign manager."
Mr Crosby - who ran Michael Howard's unsuccessful general election campaign in 2005 and helped mastermind both of Mr Johnson's election victories in London - has a reputation as a tough operator.
Mr Johnson suggested the Australian, who shuns publicity in the UK, would be demonised by the media as a right-wing "attack dog" but insisted he was in fact the "soul of sweetness".
Advising the party to spend whatever was needed to get him, Mr Johnson said: "They should kill the fatted cow. Calf, I mean."