Croydon, Middlesbrough and Rotherham by-election dates set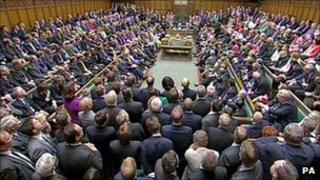 Parliamentary by-elections for Croydon North, Middlesbrough and Rotherham are to be held on 29 November.
The writs were moved in the House of Commons on Thursday morning.
Croydon North's Labour MP Malcolm Wicks died in September and Middlesbrough's Labour MP Stuart Bell in October.
The by-election in Rotherham was prompted by the resignation of Labour MP Denis MacShane, after he was found to have used false invoices to claim some parliamentary expenses.
The by-elections mean that in total there will have been six by-elections within a fortnight.
Voters are going to the polls next Thursday in Manchester Central and Cardiff South - where the sitting Labour MPs Tony Lloyd and Alun Michael stood down to stand in the Police and Crime Commissioner elections.
They will also be voting in Corby after Conservative MP Louise Mensch stood down and moved to the US with her family.