'Right to die at home' law should be considered says ex-minister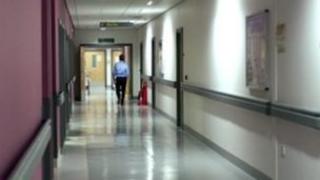 Giving people the right to die at home should be considered as a way of ending the "postcode lottery" in end-of-life experiences, a Labour peer is arguing.
More people wanted to spend their final days at home "with the right support" but current variations in home deaths were unacceptable, Lord Warner said.
Legislation might be needed if other options did not work, he added.
Ministers are considering what to do as part of a review of progress made in improving care for the terminally ill.
Official figures for 2011-12 show wide variations in the proportion of people dying at their usual place of residence - categorised as their own home or residential care - depending on where they live in England.
Numbers range from 48% in the south west of England to 35% in London. As well as London, three other regions - the North East, the North West and the West Midlands - fell below the national average of 42.4%.
Officials say there has been a "steady improvement" in the number of home deaths in all parts of the country since 2008, when the last government made progress in the area a key objective of its end-of-life care strategy.
But Lord Warner, a former Labour health minister, said the figures were only "creeping up" and that the UK compared unfavourably with the US, Canada and parts of Europe when it came to people's ability to make "informed choices" about where they die.
While he recognised that some people would always prefer to die in a hospital or a hospice, he sensed there was a "greater appetite for people to die at home with the right support".
'Professional resistance'
Ahead of a Lords debate on the subject, he said he suspected that "professional culture", rather than bureaucracy or resources, was holding back progress.
"I cannot help but feel there is some professional resistance," he said. "Some professionals, I think, feel more comfortable dealing with people on what they may call their territory."
Nurses and doctors, he added, often feared they would be criticised if they were not able to provide a similar level of care at someone's home than they could in a hospice or a hospital.
As a first step towards dealing with discrepancies in patient experience and professional practice, he said people's right to die at home should be included in the NHS constitution.
But he said few people "carried copies of the constitution around and thumbed through them" to see what their rights were and his instinct was there may be a need for bolder action.
He said he would consider bringing forward a private member's bill or amend government legislation to give people the right to express a wish to die at home under the "reasonable expectation" it would be honoured.
But he said he would only take this step after consulting with Marie Curie and other charities and gauging political support.
'Right services'
Speaking in Thursday's debate, former Conservative leader Lord Howard, who is chair of Help for Hospices, said those people wanting to die at home needed more support to do so.
"There is no doubt at all that far too many people die in hospital," he said. "63% of people say they would like to die at home and a far, far smaller proportion actually do so. That is what needs to change."
In his annual report on the end-of-life strategy last month, National Clinical Director Sir Mike Richards said hospitals were likely to remain the most common place of death and public concerns about the quality of care received there, in comparison to hospices and care homes, must be given "very high priority".
The Department of Health said ministers were committed to giving people a proper choice about where they died.
"We know that most people say they would choose to die at home rather than in hospital," a spokesperson said. "However for this to work, the right services need to be in place to support patients fully. The end-of-life care strategy is driving this forward."