How the PCC elections work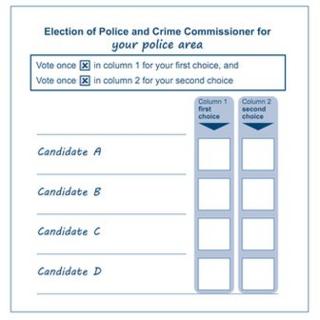 On 15 November 2012 millions of voters in England and Wales will go to the polls to elect the first ever police and crime commissioners (PCCs).
One PCC will be elected to oversee policing in each of 41 police force areas in England and Wales.
How to vote
Polling stations are open from 0700 until 2200 on 15 November.
In the three force areas where just two candidates are standing - Dyfed-Powys, North Yorkshire and Staffordshire - registered voters will be presented with a familiar "first past the post" ballot paper. They will be expected to vote for just one PCC candidate.
In all the other force areas, where more than two candidates are standing, the PCC elections are held under a system called the supplementary vote. Registered voters will be given a ballot paper with two columns.
In the left column, voters choose their first preference for PCC; in the right, voters choose their second preference.
Voters can choose to mark just one preference, using the left column only.
Working out the result
The votes are counted in each PCC area. If a candidate has won more than 50% of first preferences they are elected.
If no candidate has won more than 50%, all but the top two candidates are then eliminated.
Any second preferences for the top two candidates from the eliminated candidates are added to the two remaining candidates' totals. Whoever has the most votes combined is declared the winner.
Counting is expected to begin on Friday 16 November, apart from in Wiltshire where it will take place overnight.
Are there any other elections that day?
There are three by-elections: voters in the UK parliamentary constituencies of Corby, Manchester Central, and Cardiff South and Penarth will receive separate ballot papers with which to choose a new MP.
The ballot paper in a by-election is like at a general election, with voters putting a X in the box next to the name of the candidate they want to vote for.
Voters in Bristol will also be able to choose a mayor using the supplementary vote system, and voters in Hartlepool will be asked to decide in a referendum whether they want to retain a directly-elected mayoral system.