Muslim gang 'white rape' claim prompts row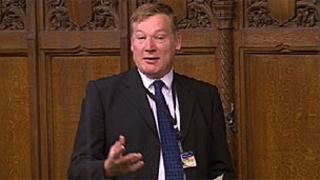 Tory MP Kris Hopkins has sparked a row in the Commons by claiming gangs of Muslim men are raping white "kids".
The Keighley MP claimed police had felt they needed "permission" to go after abusers due to "political correctness".
He said MPs should not avoid talking about the issue or the BNP and others will hijack it.
But Labour MP Yasmin Qureshi warned about "playing into the hands" of far right groups with such accusations.
The Bolton South East MP said senior police officers and judges involved in cases of abuse had said race did not play a part.
'Bigger picture'
She said the fact that the victims of abuse were white - in the cases Mr Hopkins was referring to - was "coincidental not deliberate".
She warned against losing sight of the "bigger picture" - that the common factors in all cases of abuse was the vulnerability of the victims and the fact that the perpetrators were "nearly all men".
"They (the victims) are always young girls, or young boys, or children and... the victims in these cases are always the vulnerable ones.
"It's never the child who has got a secure happy family life," she told MPs.
She was speaking in a Commons debate on the sexual exploitation of children.
Mr Hopkins insisted he had been right to raise the issue, telling MPs: "Time and time again it's a white girl being raped by Muslim men and if we deny that fact in this House then the BNP and everybody else climbs on board."
Gangs claim
He acknowledged that there were "long lists of notorious abusers" who were not Muslim but he added: "We shouldn't get away from the fact that there are gangs of Muslim men going round and raping white kids".
He said the previous MP in his constituency - Labour's Ann Cryer - was right to raise similar concerns.
Last year, Ann Cryer said she had been made aware of a problem in her constituency in 2003 after she was approached by about six mothers who said their daughters were being groomed for sex by Pakistani men.
She said she tried to intercede with the community by asking a councillor to speak to Muslim elders, but they said it was not their affair.