UK 'mistaken' over decision to continue aid to Rwanda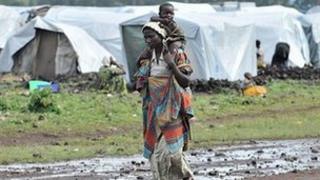 The UK's decision to continue aid to Rwanda has proved a "profound error", Labour has said, amid concerns about the country's role in the conflict in Democratic Republic of Congo.
Militia groups allegedly backed by Rwanda are stepping up attacks in the eastern part of the country.
Opposition spokesman Ivan Lewis said the escalation showed the UK had sent the "wrong message" in continuing aid.
Minister Justine Greening accused Labour of "politicising" the issue.
In a statement to MPs, the international development secretary said the developments in eastern DR Congo were "deeply concerning" and said the UK was playing a full diplomatic role in trying to bring the violence to an end.
She said she would take the situation into account when she decides on whether to allocate a further tranche of financial aid to Rwanda next month in what she said would be a "measured and thoughtful" process.
Her predecessor Andrew Mitchell approved £16m in aid to Rwanda in September despite question marks over its alleged support for the M23 militia in DR Congo.
And amid reports the militia have advanced to within a few kilometres of the provincial capital, Goma, MPs sought assurances that UK financial aid was not going to support their operations.
'Embarrassed'
Mr Lewis said the UN had been "damning" in its criticism of the links between Rwanda and the militia and the UK's support for Rwanda had undermined the international community's effort to take unified action to address the crisis.
"Does (Ms Greening) not feel in the slightest bit embarrassed that a militia is undermining the civilian population in eastern DRC as we meet here today?" he said.
"With the rest of the international community suspending budget support to Rwanda because they are actively supporting that activity, she is a member of a government that has departed from that international coalition and sent entirely the wrong message to the president of Rwanda."
He urged ministers to stop "dithering" and make it clear no more financial aid would be given unless Rwanda condemned the actions of the militia and demonstrated they were not giving it any support.
Both the coalition government and its Labour predecessor have been close to Rwanda, Tony Blair having welcomed its president Paul Kagame to Downing Street in 2006 and David Cameron travelling to the country in 2007 to learn about development issues.
'Making a difference'
Ms Greening told MPs that UK aid was lower now than it had been under the previous Labour government and the opposition had no right to "criticise us in relation to tracking results of aid and being clear about whether it is being spent appropriately or not".
She added: "I will be reviewing all the evidence, including of course the latest evidence about renewing fighting in eastern DRC and how that situation develops before making any further decision about the next dispersment of general budget support."
The UK, she added, had to balance getting value for money out of foreign aid with "making a difference" in terms of helping save lives and lifting people out of poverty.
"Much of the work that has been done alongside the Rwandan government has been successful," she said.
Ms Greening also confirmed she had suspended £11m in financial aid to Uganda after indications that some of it may have been misused, adding that this was "distinct" from the situation in Rwanda.