MPs' expenses: Row over 'secret landlords'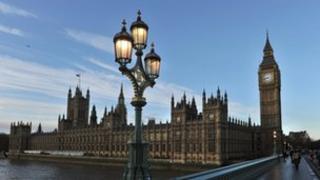 MPs are embroiled in a fresh expenses row after more than 50 of them were allowed to keep the name of their landlord secret for security reasons.
The expenses watchdog has published a list of landlords who are paid taxpayer-funded rent by MPs after a Freedom of Information request.
The release also showed some MPs rent their properties to other MPs or peers.
Labour MP John Mann said the public has a right to know to whom MPs are paying expenses money.
"There is no good reason for anyone's address to be made public but I can't see any reason why a landlord or a landlady's name should be held back," he told BBC Radio 5 live.
He said there was "nothing wrong" with MPs renting property to other MPs, provided it was transparent and they could defend it to their constituents.
"The public has got a right to know - and whatever we do, we have got to be prepared to defend it. if you can't defend it, don't do it."
'Security issues'
A spokesman for the Independent Parliamentary Standards Authority (Ipsa) said 85% of 320 MPs who claim rental expenses had their landlords named.
But he added: "We need to consider in each case whether there are any security issues. We take that as seriously as we can."
The latest expenses revelations were uncovered in an investigation by Channel 4's Dispatches programme, which broadcast a film called MPs: Are They Still At It? at 20:00 GMT on Monday.
The Daily Telegraph claimed Labour MP Luciana Berger - one of the MPs allowed to keep the identity of their landlord secret - wanted to conceal the fact that she rents from a company based in the British Virgin Islands, an off-shore tax haven.
But a spokesman for the Liverpool Wavertree MP, who in 2010 reported being targeted by a stalker, said she had asked for the details to be withheld for security reasons.
The MP told the newspaper: "I entered into my tenancy agreement in good faith, using the letting agent recommended by Parliament."
She said she had "never dealt directly with the property's owners and was only made aware today that they are based offshore".
"I believe it is wrong for companies to avoid paying their fair share of tax and it is not something that I would knowingly support," she added.
"Now that this matter has been brought to my attention I will be examining these reports closely."
Lampard claim
The newly released details also show that Labour MP Jessica Morden is renting a property from colleague Madeleine Moon, while Iain McKenzie's landlord is fellow Labour member Linda Riordan.
The practice of MPs sub-letting properties to colleagues, who then claim back the rent on expenses, is not against the rules - which only bar MPs from renting from family members and those with whom they have a "business interest".
But it has been criticised as being against the spirit of the new regulations and Mr McKenzie said last month that he probably would not have entered into such an arrangement if he had known the identity of his landlord in advance.
The Sun newspaper also claimed Conservative MP Peter Luff, who represents Mid Worcestershire, rents a London flat from Chelsea footballer Frank Lampard using taxpayers' money, while letting out his own London home, after "Frank Lampard" was listed as the MP's landlord.
Lampard did not know who the management company let the property to, a spokesman for the footballer told the newspaper.
A representative for Mr Luff said the MP had no idea whether he was renting from Lampard or not.
Other MPs allowed to withhold the name of their landlord include Deputy Prime Minister Nick Clegg, former Labour Minister John Denham and Nadine Dorries, the outspoken Tory backbencher currently taking part in reality TV show I'm A Celebrity...
Several of the landlords named in the document have historic pedigrees.
Conservative Planning Minister Nick Boles rents a property that is part of the Burghley House estate in Lincolnshire, described by the Daily Telegraph as "one of the great stately homes of England", while Conservative backbencher Michael Fabricant rents a constituency home from Lichfield Cathedral.
On Monday, Equalities Minister Helen Grant defended claiming the maximum expenses for a second home in London despite living 19 miles from the Commons.
Mrs Grant, a Conservative MP who entered Parliament in 2010, lives in a £1.8m house in Reigate, Surrey, and has a taxpayer-funded flat in London.
As a Maidstone MP and non-London MP, she is entitled to a second-home allowance.
But if she represented the Surrey area where she lives, she would not be able to claim the allowance.
A spokesman for Mrs Grant said she had acted within both the spirit and the letter of the rules.