What does Ed Miliband really think?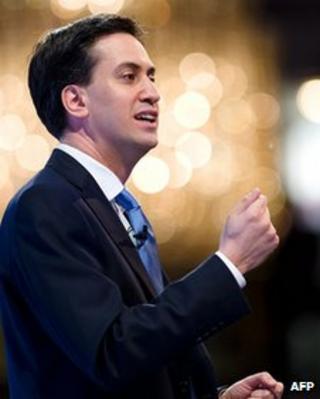 Shortly after becoming Labour leader in September 2010, Ed Miliband told his party conference: "My beliefs will run through everything I do."
The BBC Radio Four documentary What does Ed Miliband really think? explores what those beliefs are.
Its producer Leala Padmanabhan considers who Mr Miliband is influenced by and how his ideas are shaping his leadership and his party's direction.
At the heart of Mr Miliband's vision is the notion the free-market economy is no longer working in the interests of the majority of British people and new rules need to be set to prevent the excesses of "predatory capitalism" and ensure a fairer, more equal society.
This idea forms the central theme of many of the speeches Mr Miliband has made since becoming Labour leader, including those on "responsible capitalism", "predistribution" and "One Nation Labour".
In his quest for radical change, Mr Miliband says he is prepared to take on powerful vested interests, such as the banks or the utility companies and stresses he was inspired in this in this by his late father, Ralph Miliband, a Marxist academic.
"He would have encouraged me to stand up to people, however powerful they are," he says.
"The point of democracy is that it is the ultimate political tool. And I mean that in the sense that, there can be no set of forces in our country that are beyond the reach of democracy."
Thatcher parallel
The Miliband camp points to parallels with Margaret Thatcher's time as leader of the opposition in the late 1970s, in terms of the context in which the two party leaders are operating and the scale of their ambition.
Like Lady Thatcher, argue Ed Miliband's supporters, he is setting out a radical vision of a different economy during a time of financial crisis and at a time of political flux.
"She was a conviction politician and I think conviction really matters. I think that in the 1970s, it was a similar moment, and that is the biggest parallel. It was a similar moment in the sense that a sense of the old order was crumbling and it wasn't 100% clear what was going to replace it.
"And the challenge of the future, of the next few years and indeed of the election, is who can rise to the scale of challenge that the country faces and who can create a project for how this country's going to be run that is genuinely going to make our economy work, not just for a few people but much more widely."
Mr Miliband and his senior adviser, Stewart Wood, reflect on one of the main criticisms of their ideas-led vision, namely that it is inaccessible, academic and difficult to translate into practical, sellable policy.
'Thick As A Brick'
They discuss Mr Miliband's 2011 conference speech on "predatory capitalism", which was mauled by the press, and which led to an uncomfortable aftermath, in which neither the Labour leader himself, nor his shadow cabinet seemed able to explain precisely which companies were predators and which were not.
Lord Wood admitted that he and Mr Miliband were expecting a negative reaction, recounting: "After the speech was given I and a few other colleagues went around conference talking to delegates and journalists to gauge the reaction.
"That night we came back to Ed's room about 11.30, sat down to debrief him on the reaction and my Blackberry has as its screensaver a Jethro Tull album cover called Thick As A Brick, which is in the form of a newspaper cover with a mock headline Thick As a Brick.
"When I put my Blackberry down, Ed picked up and said, 'Oh my god, is that the headline tomorrow?' And so for a few seconds he thought that the press had not been even politely critical, but deeply critical of it!"
Asked to define more precisely what his ideas mean in practice, such as whether Labour is prepared to re-nationalise the train companies, Mr Miliband says he is "absolutely open-minded" about how the rail system operates in the future.
"I don't think we should have the automatic view that everything just remains in the private sector as far as the rail franchises are concerned."
Policy gaps
Mr Miliband and his allies have also faced criticism that while their ideas on the economy are well-developed, they have said little about other policy areas, particularly public service reform.
Stewart Wood admits there are gaps.
"It's true that before the next election we have to show that we have a range of ideas and approaches partly questioning previous approaches of the Labour Party, but also harnessing some of the better things we did about public services and other issues.
"It's true that we don't have a full range of options presented to the British public as though the election were next month."
Talking about the figures who have influenced his political ideas, Mr Miliband described his father Ralph as a "lodestar" and also revealed he had "learned a lot" from former boss Gordon Brown, the politician who has been the dominant figure in his career.
"I also learned some lessons. I think that, when he became prime minister, he didn't have a clear enough sense about how he wanted to take the country forward.
"And so I learned that lesson, and I'm not somebody who is going to go into the coming election not being clear about where I want to take the country afterwards."
What does Ed Miliband really think?, presented by The Independent's columnist Steve Richards, was broadcast at 20:00 GMT on BBC Radio Four on 19 November. Listen again on the BBC's iPlayer radio.