Nadine Dorries must 'rebuild bridges' to remain as Conservative MP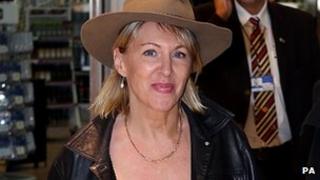 Nadine Dorries needs to "rebuild bridges" with her constituents and colleagues if she is to remain as a Conservative MP, party officials say.
Ms Dorries met Chief Whip Sir George Young for 15 minutes on Tuesday to explain why she took time off to take part in a reality TV show in Australia.
No final decision was taken on whether she would have the whip restored.
The BBC's deputy political editor James Landale said the MP was effectively "on probation" for the time being.
Ms Dorries returned to the UK on Monday after being the first person to be voted off I'm a Celebrity... Get Me Out of Here!
The MP for Mid-Bedfordshire was suspended when it emerged earlier this month she had left for Australia, where the show is filmed.
Sir George, who is in charge of party discipline, will ultimately decide whether to restore the party whip to the MP but, according to sources, Tuesday's meeting was only preliminary.
Unless the whip is reinstated, Ms Dorries will have to sit as an independent in the House of Commons and cannot stand as a Conservative MP at the next election.
Ms Dorries insists she was given permission to take a holiday by the former chief whip Andrew Mitchell, although Mr Mitchell has insisted he was not told what she was planning to do with her time off.
'Good-natured'
Many fellow Conservatives have criticised her for taking part, saying she was neglecting her constituents.
The MP has suggested that other MPs have spent a longer time away from the UK, either on holiday or unofficial business.
Ms Dorries said the meeting with Sir George had been "good-natured" and discussions on whether she would be allowed back into the Conservative parliamentary party had been adjourned.
But she said she was "confident" the whip would eventually be restored and insisted she wanted to remain as an Conservative MP.
"I think we will be fine with the whip," she told BBC Three Counties radio. "Of course I want to be an MP. An MP is not doing a job, it is a life choice. If I didn't want to make that life choice I wouldn't be doing it, I can assure you."
Pressed on her absence from Westminster, Ms Dorries acknowledged she had missed nine days when Parliament was sitting - not three as she has previously stated.
She said there were three days when she was away when votes had been held.
After the meeting, a spokesman for Sir George said: "The whip has not been restored and nor will it be until she proves that she can rebuild bridges with her constituents, her association and her parliamentary colleagues."
Ms Dorries, who has been a persistent critic of the party leadership, has said she will donate her MP's salary for a month to play schemes in her constituency,
The BBC's deputy political editor James Landale said no immediate decision would be taken on the MP's future and she was effectively being placed "on probation" for the immediate future.
The whips, he said, were expecting her to talk to her constituents, local party officials and colleagues over the next week to get a sense of the strength of feeling generated by her decision to take part in the show.
If the MP showed "contrition and good behaviour", both in Parliament and in her media appearances, there was a good chance she would be readmitted to the parliamentary party, he added.