Border Agency official apologises for 'inadvertently' misleading MPs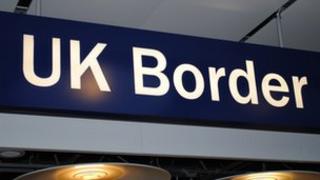 A senior official at the UK Border Agency has apologised for misleading MPs about the amount of background checks made on historic asylum cases.
Jonathan Sedgwick told the Home Affairs Committee that he wanted "to look MPs in the eye" and say sorry, but insisted the mistake had been "inadvertent".
It followed a recent report which found significant failings in the agency's handling of unresolved cases.
Committee chair, Labour MP Keith Vaz, said it was a "very serious" matter.
In his report earlier this month, Chief Inspector of Borders John Vine accused the border agency (UKBA) of supplying inaccurate information to MPs about the backlog of asylum cases and said Parliament had received incorrect assurances about progress.
'Not satisfactory'
Mr Sedgwick, the UKBA's director of international operations and visas and a former acting chief executive, said he took responsibility for errors in his evidence to the committee in April 2011.
At the time, he said "exhaustive checks" had been done in 74,500 historic cases against 19 databases before they were placed in a "controlled archive" - a list of people UKBA officials believed they could not trace.
But he told the same committee on Tuesday that "plainly it was not 19".
He added: "I welcome this opportunity to say to the whole committee in person how much I regret and apologise for the fact that I did mislead you on two occasions last year, specifically in relation to the number of databases that were and were not checked.
"I had no intention of misleading you but clearly it is not a satisfactory position."
In 2006, the then home secretary ordered the UKBA to deal with 450,000 unresolved asylum cases within five years.
By the summer of 2011, the agency said it had 147,000 unresolved cases left and that it needed to launch a special unit to deal with them.
'Necessary imprecision'
But Mr Vine's report said the unit quickly became overwhelmed and failed to routinely or consistently make security checks to try to trace some of the unresolved cases subsequently archived.
Mr Sedgwick told MPs that the agency had always tried to give MPs accurate information on unresolved cases but there was a "necessary imprecision" about the figures because of the number of years over which they had accumulated.
Asked whether he had failed to perform his duties properly, he said "clearly it was not good enough". Asked if it was incompetent, he replied: "It was not competent."
Lib Dem MP Julian Huppert said the report was "humiliating" and suggested the UKBA had "lost control" of its own procedures.
'Getting better'
Mr Sedgwick said the report had presented "stark findings" that would be taken seriously and the UKBA "needed to improve".
But Mr Vaz said the report had "shocked" MPs and if the committee learnt that any future information provided by the UKBA was inaccurate, it would consider reporting the organisation for "contempt of Parliament".
Also giving evidence, former UKBA chief executive Lin Homer said it was "unfortunate" that, at one point, there were 150 boxes of unopened mail from asylum applicants, their lawyers and constituency MPs stored in a room at the agency's Liverpool offices.
Ms Homer, now chief executive of the Revenue and Customs, said there had been problems with the "transition" to the new unit in 2011 but the organisation had got better at responding to correspondence and asylum cases were being dealt with properly.
"My view is that the organisation (UKBA) has slowly but surely got better," she said. "There is still much to do... but I think this is now a broadly functioning organisation."