UK government begins 'comprehensive' audit of EU powers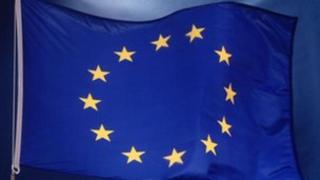 The government has begun seeking views on the UK's relationship with the EU as part of a "comprehensive audit" of Brussels' powers.
The Department for Environment, Food and Rural Affairs (Defra) and the Department for Health are the first ministries to appeal for evidence.
Foreign Secretary William Hague has promised "positive" reform, with the audit due for completion in 2014.
But Labour says a strategy is needed sooner to deal with upheaval in Europe.
Mr Hague announced the "comprehensive audit" in July, saying it would provide "the most thorough and detailed analysis possible on the extent of EU powers" and valuable guidance for policy-makers in the future.
The Foreign Office and the Cabinet Office are overseeing the audit, which will seek written evidence from businesses and EU institutions.
'Challenges and tensions'
Work begins as tensions over the EU are increasing, with many Conservative MPs demanding an "in/out" referendum on continued membership.
The consultation conducted by Defra and the Food Standards Agency is looking at EU powers over animal health, animal welfare and food safety. It will last 12 weeks, with the results expected to be published next summer.
In a written statement, Environment Secretary Owen Paterson said: "The report will focus on the issues associated with protecting animal health, welfare and food safety, where maintaining a strong internal market while allowing sufficient national and local choice on issues such as how to deal with risk creates some challenges and tensions.
"A key question for this review will be whether the benefits to the UK of protecting the functioning of the internal market justify the high level of EU competence in this area."
The Department of Health's consultation will follow the same timescale.
Health minister Anna Soubry said: "Whilst responsibility for health policy is a matter for member states, the EU has an important role in various issues related to public health and healthcare.
"The health report is an opportunity to look at this role and to examine the evidence concerning the impact of EU competence in health on the UK's national interest."
Labour has criticised the timing of the consultation, arguing for a more immediate "strategy" announcement, ahead of proposals for greater economic union within the eurozone being discussed at an EU summit next month.
Meanwhile, Conservative MPs are urging the prime minister to hold an in/out referendum, with many arguing that this is a good time to decide the extent of UK involvement in the EU.
On Monday, senior Tory MP Michael Fabricant suggested an electoral pact with the UK Independence Party, promising such a vote after the next general election.
David Cameron has committed to seeking what he called "fresh consent" in referendum but he has so far resisted calls for an in/out choice.
Mr Hague has denied that the audit is a step towards disengaging from or leaving the EU, arguing that its aim is to reduce costs and bureaucracy.