'Urine pouring into' MP Ben Bradshaw's office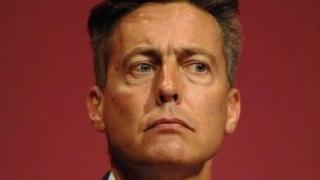 Labour MP Ben Bradshaw has complained to the Commons authorities that "urine seems to be pouring" into his office.
The offending liquid is trailing down a corner of the area in which one of the former culture secretary's staff works.
The leak is coming from a toilet upstairs, although officials insist there has been no damage.
But a spokesman for Mr Bradshaw told the BBC: "The whole office smells of urine." His staff have put a bucket in place until the problem ends.
Mr Bradshaw, the MP for Exeter, tweeted: "Urine seems to be pouring through the ceiling into my Commons office for the second day running!"
'Great Stink'
An aide told the BBC the House authorities had at first claimed it was "water that's just a bit stagnant... but the whole office smells of urine, basically".
He added: "It's dripping from a corner. We've got a bucket underneath.
"It started yesterday and they fixed it, but it's started again today. The House authorities are aware and they are getting it sorted."
Mr Bradshaw's office is situated in Norman Shaw North, the building which, along with Norman Shaw South, was home to New Scotland Yard until 1966.
Asked why Mr Bradshaw had publicised the situation on Twitter, the aide said: "We are just being proactive and trying to get it sorted out. The smell is not good. It just keeps dripping."
A Commons spokesman said: "The engineers of the Parliamentary Estates Directorate have now identified the problem - a broken urinal waste pipe. There has been no damage to possessions/IT equipment and there will be a clean-up."
It is not the first time that unsavoury waste has disrupted proceedings in the Palace of Westminster.
During the "Great Stink" of 1858, the pong caused by waste emanating from London's drains into the Thames was so bad that the authorities considered moving proceedings to Oxford or St Albans.
Curtains were soaked in chloride of lime to suppress the odours.