Voters go to polls in three by-elections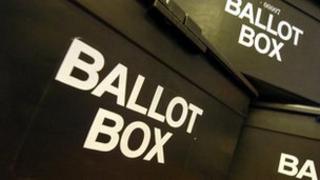 Voting is taking place in three parliamentary by-elections.
The contests are in Croydon North, Middlesbrough and Rotherham, with polling stations closing at 22:00 GMT and the results due a few hours later.
The Croydon and Middlesbrough contests were triggered by the deaths of MPs Malcolm Wicks and Sir Stuart Bell and that in Rotherham by the resignation of Denis MacShane.
At the 2010 general election, Labour retained all three seats.
Mr Wicks won Croydon North by 16,483 votes, while Sir Stuart won Middlesbrough by 8,689.
And, in Rotherham, Mr MacShane was victorious by 10,462 votes.