David Cameron hails plan to switch spending 'to fund schools'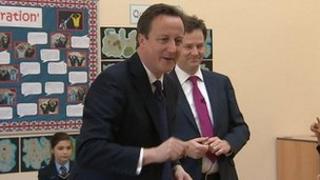 David Cameron has hailed plans to squeeze spending in most Whitehall departments and use the money to build new schools and transport schemes.
All but four departments will be asked to save an extra 1% next year and a further 2% the following year.
The PM said the £5bn saved would be spent on capital projects to kickstart growth and make the UK "work better".
Labour said the announcement showed that axing their school building plans had been a "catastrophic mistake".
Treasury sources say that Wednesday's Autumn Statement will spell out how £1bn will go towards building 100 new free schools and academies, creating an additional 50,000 new school places.
Health, education, international development, HM Revenue and Customs and nuclear decommissioning will be protected from this latest squeeze.
Frontline services in all other departments will also be shielded with a bulk of the savings coming from administration and back office staff, government sources say.
But Whitehall departments will be expected to cut day-to-day spending by 1% (£950m) in 2013/14 and 2% (£2.5bn) in 2014/15.
Under the plan, the government believes it will be able to spend more annually on capital investment, as a proportion of GDP, than Labour did when it was in power.
'Taking longer'
The decision to cut Whitehall budgets comes after a mid-term spending review carried out by Chief Secretary to the Treasury Danny Alexander, which suggested many departments were over-achieving on planned savings.
Departments have under-spent by a total of £3bn over the past two years, the review found, reassuring Chancellor George Osborne that it would be possible to divert spending into more economically valuable areas.
The Treasury believes there may be scope for further efficiencies. If all departments reduce their administrative spending by the same amount as the Department for Education, they would save almost £1bn by 2014/15, sources said.
Mr Osborne and Mr Alexander briefed the cabinet on the plans on Tuesday morning, which will be confirmed in the Autumn Statement, when Mr Osborne updates MPs on the state of the nation's finances.
During a school visit Mr Cameron said: "Government departments aren't actually spending up to their budgets so I think we can say to them 'You've got to cut back some spending, including some unnecessary spending', and let's put that money into things that will make a difference in our country and in our economy - more roads, more school buildings, more infrastructure to make our economy work better, to make our country work better."
The changes apply to England only, but will have knock-on effects in Scotland, Wales and Northern Ireland because of the funding formula used.
Deputy Prime Minister Nick Clegg, on the same school visit, said: "Today's announcement is all about making sure that the money we do have available to us is used for the best possible purposes - not tied up in Whitehall but used to rebuild schools, to improve our transport infrastructure, to invest in the things that this country needs for the long term."
The Office for Budget Responsibility (OBR) is expected to downgrade its forecasts for growth in figures to be released alongside Mr Osborne's statement.
If the figures are as bad as many expect, the chancellor could miss his targets for paying off Britain's debts.
On Sunday, Mr Osborne admitted cutting the deficit was "taking longer" than planned.
'Extra classroom places'
Labour leader Ed Miliband said that Mr Osborne's policies had been a "terrible failure" which were "bad for Britain... and I'm afraid what we're going to see is ordinary families paying the price of that".
He told the BBC: "What we need, and what we need George Osborne to admit, is if you've been trying an approach for two and a half years and it hasn't worked, you don't just keep ploughing on regardless."
Shadow chief secretary to the Treasury Rachel Reeves said the "extra funding for new free schools will be smaller than the huge cuts he made two years ago to school and college buildings. "
The new money for school places comes on top of the government announcing a £2bn Priority School Building Programme, which will fund 261 school rebuilding projects in England over five years.
An initial 42 schools, among the most dilapidated, were named in a first wave.
This scheme replaced the previous Labour government's Building Schools for the Future project, which had been expected to cost £55bn, but which was scrapped by the coalition government.
Extra classroom places are likely to relieve some of the increasing pressure on primary schools, particularly in London and the big cities, where a surge in the birth rate has seen primary schools struggling to cope with the rising demand.
Official figures published earlier this year showed that there would need to be places for an extra 450,000 primary school pupils in England by 2015.
Many schools have had to add extra classrooms - and a growing number of primary schools will have to expand to more than a thousand pupils.