Council reserves now stand at £12.9bn, says report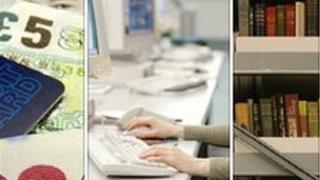 English councils have increased their reserves by £4.5bn over the last five years to almost £13bn, despite cuts to funding, the Audit Commission has said.
The public spending watchdog found councils had a total of £12.9bn set aside - the equivalent of nearly a third of their spending on services.
Communities Secretary Eric Pickles used the figures to attack some councils for "scaremongering" about funding cuts.
But the Local Government Association (LGA) said councils were being prudent.
The Audit Commission's figures come after the chancellor announced an extra 2% cut to council budgets in 2014-15 in his Autumn Statement.
The LGA called the additional cut "unsustainable" and warned that spending on social care for children and the elderly could now face reductions.
In its report, the Audit Commission found that between 2007 and 2012, 77% of councils in England had increased their reserves relative to their spending and 26% had more than doubled them.
Council reserves grew by 36% in real terms over the five-year period, the watchdog said.
It found that many councils had been setting money aside as a response to funding reductions and financial uncertainty arising from, for example, changes to local business rates and new arrangements for providing council tax support.
Some of the growth in reserves had been the result of unplanned increases - when councils received unexpected income, or exceeded their savings plans.
The watchdog said that £9.9bn of the money held in reserve had been earmarked for a specific purpose, although this didn't always mean there was a plan for spending the funds.
It recommended councils regularly review their reserves to reflect the risks they face as well as their future spending plans.
'Doom and gloom'
Jeremy Newman, chair of the Audit Commission, said: "Reserves are a vital element of good financial management for any council, especially at a time of financial uncertainty.
"They help councils plan for known and predictable spending commitments, but are also a defence against the unknown and unpredictable.
"However, councils must strike a balance between the needs of current and future taxpayers.
"Given the sums involved, and the risks, it is essential that councils' decisions are made openly and reported with clarity, so local taxpayers and service users can hold their councils to account.
"Our report doesn't offer any magic formula for deciding whether reserves are appropriate - councils must make their own decisions in the light of local circumstances.
"But we do identify how councils can improve their decision making, and suggest questions for councillors to ask to stimulate local debate about reserves."
Communities Secretary Eric Pickles said "people would be surprised that councils are hoarding billions whilst some are pleading poverty".
Mr Pickles added that "given the rise in reserves, it was disappointing and irresponsible that some sections of local government chose to scare the public with predictions of doom and gloom".
But the LGA said it was "entirely prudent and justified" for councils to be setting aside money, and these reserves were "all that stood between local authorities and the risk of financial collapse".