Owen Paterson backs UK-grown genetically modified food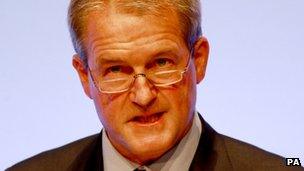 Environment Secretary Owen Paterson has backed introducing genetically modified (GM) food production in the UK.
He said there were "real environmental benefits" to the technology and dismissed concerns about its impact on human health as "complete nonsense".
It comes amid speculation that ministers are ready to relax control on the cultivation of GM crops.
Although not illegal, to date no GM crops have been grown commercially in the British countryside.
However, the coalition has allowed small-scale cultivation trials to take place.
Speaking to the Daily Telegraph, Mr Paterson said: "Emphatically we should be looking at GM … I'm very clear it would be a good thing.
"The trouble is all this stuff about Frankenstein foods and putting poisons in foods.
"There are real benefits, and what you've got to do is sell the real environmental benefits."
Those in favour of the technology argue that it can increase crop yield and avoid the need for pesticides.
But there was widespread public opposition to the introduction of GM food to Britain in the 1990s.
Mr Paterson dismissed concerns about human health, arguing that widespread use of GM crops around the world meant people were already unwittingly eating GM food.
"There's about 160m hectares of GM being grown around the world," he said.
"There isn't a single piece of meat being served [in a typical London restaurant] where a bullock hasn't eaten some GM feed.
"So it's a complete nonsense. But, the humbug! You know, large amounts of GM products are used across Europe."
The government has recently consulted on new "agri tech" measures to encourage innovation and new technologies that could boost British farming.
A ministerial response is due next year, but Mr Paterson has already said "serious consideration" should be given to GM food as part of the new strategy.
He told the newspaper he was confident David Cameron would find an "appropriate moment" to back GM food.
"I'm very clear it would be a good thing," he said. "So you'd discuss it within government, you'd discuss it at a European level and you'd need to persuade the public."
Although some Liberal Democrat ministers are reported to be open to the prospect of relaxing the rules on GM food, the party's grassroots has previously been hostile to the technology.
Last month Lib Dem farming minister David Heath told farming groups that genetically modified crops were "one of the tools in the box" but not the silver bullet to increase food production.
Friends of the Earth's senior food and farming campaigner Clare Oxborrow said: "The government should focus on funding cheaper, simpler and safer agricultural solutions which can deliver real benefits for consumers, farmers and the environment, rather than gambling on GM.
"A fresh approach to agriculture is urgently needed to serve up sustainable diets globally, including reduced meat-consumption in wealthy nations and an end to food crops being used for biofuels."