Council of Europe warns over UK's prisoner vote option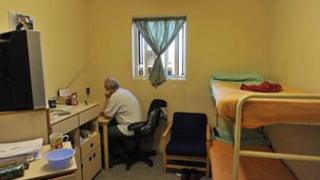 The Council of Europe has told the UK it cannot include a blanket ban on prisoner voting as an option when it puts a bill before MPs.
It has also effectively given ministers until September to bring forward a bill, the BBC's James Landale says.
Last month the government published a draft bill with three options for MPs.
They were to give the vote to prisoners serving less than six months, give it to those serving less than four years, or keep the current blanket ban.
The draft bill will be considered by a new committee of MPs before making recommendations to the government.
Ministers will then draw up a proper bill which will be put before Parliament - it is expected that MPs will almost certainly vote to keep the ban, James Landale, the BBC's deputy political editor, says.
The European Court of Human Rights (ECHR), which is overseen by the Council of Europe, has told the government to present plans to allow inmates to take part in elections, but most MPs are opposed.
The government and Labour both oppose giving serving prisoners the vote.
Parliament is expected to tackle the issue in the next few months, but Prime Minister David Cameron has vowed inmates will not be given such rights under his government, saying the idea makes him feel "physically sick".
'Very clear'
If Parliament chooses to oppose the will of the Strasbourg court it could create an impasse which would strain relations and could involve the UK leaving the European Convention on Human Rights, according to some analysts.
Currently only prisoners on remand can vote, but the court has ruled that a blanket ban on those serving sentences voting was illegal.
The Council of Europe said it "welcomed and strongly supported" remarks by Chris Grayling, the Lord Chancellor, who told MPs last month that the government was under a legal obligation to implement the European Court of Human Right's judgements.
But it said that "the final version of the legislation that will be proposed to Parliament should be in conformity with the fundamental principles recalled in this announcement" and added that "the third option aimed at retaining the blanket restriction criticised by the European Court cannot be considered compatible with the European Convention on Human Rights".
The Council of Europe went on to invite the government to keep it "regularly informed of progress made and on the proposed time-scale".
It said it would "resume consideration of the case at the latest at its 1179th meeting (September 2013)".