The group which doesn't know its chief executive's pay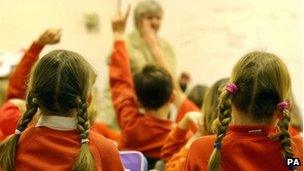 The educational organisation United Learning runs 31 schools, whose aim is to impart knowledge to tens of thousands of pupils.
Yet the organisation seems to have a surprising gap in its own knowledge - it has told the Information Commissioner that it doesn't hold any information on what its chief executive is paid.
As a group of schools including 20 publicly-funded academies, along with 11 independent schools, United Learning receives public money and is a public authority for the purposes of FOI (freedom of information). The organisation is one of England's largest providers of academy schools.
Its chief executive is Jon Coles, who was previously a senior civil servant in the Department for Education.
Academies were brought under the Freedom of Information Act in 2010. The number of academies (now more than 2,000) has been increasing rapidly, and this puts them in line with other state-funded schools.
But this case shows there are limits to the openness that FOI can bring to some organisations involved in providing academies.
Earlier this year United Learning received an FOI request asking for details of the pay and employment packages for its chief executive and other senior management. When it did not supply the information, the requester complained to the Information Commissioner's Office.
United Learning told the Commissioner that its senior management were actually employed and paid by a charity, the United Church Schools Trust. This is a separate but linked charity which is not publicly funded and does not come under FOI.
In a decision released today the Commissioner upheld United Learning's stance that it did not hold the requested information on how much its chief executive and senior management are remunerated. The Commissioner was told that they were not paid out of public funds.
I had hoped to ask United Learning to explain this unusual state of affairs, but the organisation's spokesman told me: "United Learning Trust has no view to express on the case".
Related Internet Links
The BBC is not responsible for the content of external sites.