'Hillsborough probe' bill passed by Parliament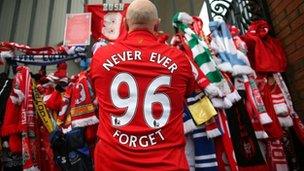 The Independent Police Complaints Commission (IPCC) is set to gain new powers after the House of Lords passed legislation prompted by the Hillsborough disaster and cover-up.
MPs approved the bill, which enables the IPCC to compel serving officers to give evidence in person, last week.
The IPCC could investigate up to 2,400 serving or retired officers as it examines the Hillsborough case.
Ministers say the bill is "essential to achieve justice" for the victims.
Home Office minister Lord Taylor of Holbeach told peers: "The bill before the House today is essential to achieve justice for the 96 innocent men, women and children who died as a result of the Hillsborough disaster.
"This short bill provides the IPCC with the tools it needs to and marks one step further along the road to justice for the victims of Hillsborough. All who support this aim will, I'm sure, support this bill."
For Labour, Baroness Smith of Basildon praised campaigners for their dedication in the "hard fought" battle for justice, but predicted that the "truth will out".
The Police (Complaints and Conduct) Bill, which has cross-party support, passed through Parliament using a fast-track procedure.
When MPs debated the bill, Police Minister Damian Green said he had been surprised to learn that the IPCC did not already have the power to compel police officers and other staff to testify.
The bill will also mean that in exceptional circumstances, the IPCC could investigate a matter that has already been investigated by its predecessor body, the Police Complaints Authority.
An IPCC inquiry was launched after the Independent Hillsborough Panel Report, released in September, found police and emergency services had attempted to deflect blame for the disaster on to fans.
The panel revealed 164 police statements had been altered - 116 of them to remove or change negative comments about the policing of the 1989 FA Cup semi-final between Liverpool and Nottingham Forest at the Sheffield stadium, during which a crush on the terraces led to the deaths of 96 Liverpool fans.
Related Internet Links
The BBC is not responsible for the content of external sites.