Judges should decide secret courts, government accepts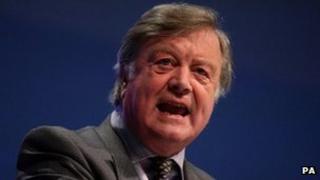 The government has conceded that the decision over whether court hearings can be held in secret should be made by judges, not ministers.
The plan to let ministers order secret court hearings in civil cases relating to national security had been defeated in the House of Lords.
Ken Clarke, the minister responsible, said the Lords had been "pushing at an open door".
Shadow Justice Secretary Sadiq Khan welcomed the government's decision.
He accused Mr Clarke of making a "hash" of the legislation, adding the first version of the bill "failed" to preserve the principle of "openness and transparency".
Mr Khan added: "Any deviation from this [principle] should only be considered in the most extreme of circumstances and must be accompanied by transparent checks and balances."
The Justice and Security Bill (Lords) would create a mechanism that allows court evidence to be heard in secret where the government says it needs to keep information from the public, on grounds of national security.
But civil liberties groups say it would allow official wrongdoing to go unchallenged.
'Fetter the discretion'
Outlining the bill to the Commons as he opened its second reading debate, Mr Clarke insisted secret courts were necessary.
He said some foreign intelligence agencies were showing signs of reluctance to share information with the UK, in fear that a court could order its disclosure.
Mr Clarke said: "The bill leaves it to the judge to decide what is necessary in any particular case, rather than seeking to impose disclosure requirements or fetter the discretion of the judge in deciding whether to have a closed process."
Labour's George Howarth, a member of the Intelligence and Security Committee, said he supported the bill, insisting the state had to be able to hold secrets.
"There have been cases where, because of shared information, lives in this country have been saved. If we can't continue to share information with our counterparts, particularly in America but not exclusively so, lives will be lost," he said.
But Plaid Cymru's Westminster leader Elfyn Llwyd said the bill threatened to "undermine the principle of natural justice".
He said: "Even as amended, this bill could still result in members of the public losing their cases against the state without ever being told the reason why, the government being able to hide evidence of wrongdoing and officials being given the power to exclude the other party from court proceedings."
Mr Clarke also confirmed that evidence could be heard in secret in court cases brought against the government over the death or injury of British troops.
He said he could not rule out a "closed material proceedings" application being made, but it would be used only in exceptional circumstances.
The government has dropped plans for such secret hearings at military inquests following lobbying from the Royal British Legion.
Labour MP Joan Walley asked him to clarify the position for "families of armed forces personnel who have been illegally killed or who may have been injured who wish to take out court cases".
Mr Clarke said: "Most of these MoD cases don't give rise to national security in that way. The Ministry of Defence don't expect to start invoking closed material proceedings.
"You can't anticipate, it may be possible that the circumstances of the tragic death of some soldier might involve some highly secret operation and then this could actually arise."
But he added that if a soldier was killed "in some highly secret operation in some unlikely part of the world" and it was claimed to be the result of "some actionable negligence" then he could not rule out an application for a secret hearing.
'Disgusting practices'
Tory MP Andrew Tyrie meanwhile, questioned whether the bill would hinder investigations into extraordinary rendition, the process whereby people are illegally transferred from one country to another.
He said Britain's facilitation of extraordinary rendition was known, but the bill "may make it more difficult to find out the degree of Britain's complicity".
Mr Tyrie added: "If we don't get to the bottom of our complicity in these disgusting practices we surrender the moral high ground.
"Secret courts are usually held to be the tools of dictators, not democracies, their prevalence can be seen often as a test of whether a society can be called free.
"I don't want my country to be accused of covering [extraordinary rendition] up. And whether it's fair or unfair that's exactly what Britain's detractors abroad may claim for this bill."
Justice charity Reprieve's executive director Clare Algar said: "At last the government has admitted the wide range of circumstances in which these dangerous plans could be used."
She added: "Once these plans have passed, ministers will find irresistible the prospect of using a secret court to avoid embarrassing disclosures over negligence or wrongdoing.
"Parliament must vote against plans for secret courts, or risk putting government above the law."
The bill is only related to civil cases involving national security, such as if somebody sues MI5, and will have no impact on other sensitive police cases, such as the inquest into the death of Mark Duggan, whose shooting by police in August 2011 led to riots across England.