Watchdog: AV referendum cost £75m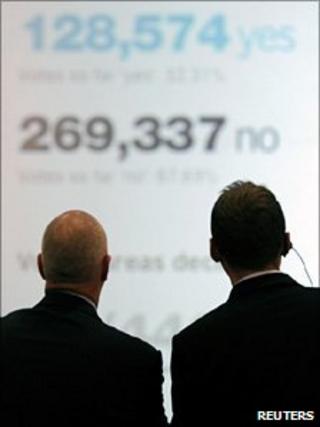 A referendum on changing the voting system for general elections cost £75m, an official report says.
Plans to move from a first-past-the-post to an "alternative vote" system were rejected last year.
The cost of staging the referendum was expected to reach £100m, but the Electoral Commission found these estimates had been "too high".
Of the money spent, £58.1m went on the costs of running the vote and the rest on mailshots, staff and administration.
The commission urged the government to learn lessons from running the referendum to prevent overestimates in any future election cost predictions.
'Lessons'
Chairman Jenny Watson said: "The public have a right to know how their money is spent at major polls, and we've been able to set this out for the first time today.
"These figures show the government's original estimates of the cost of the 2011 referendum were too high - by more than £20m - so it's important that lessons are learnt."
Voters decisively rejected the Liberal Democrat proposals to introduce the alternative vote system - which sees candidates ranked in order of preference - in May last year.
More than 19 million people turned out for the vote, with 13 million of those opposing the changes.
Ballots were cast at 42,800 polling stations staffed by 119,500 workers. Nearly 7.2 million postal votes were issued to electors, of which 5.2 million were returned.
Ms Watson, who was chief counting officer at the referendum, added: "The government should publish full details of the costs of recent and future polls as we have done for the May 2011 referendum.
"This will enable the people running the polls - returning and counting officers - to use the information to ensure they are delivering best value for voters."
The commission called on the Government to publish full details of the European elections held in 2009, the 2010 general election and the recent police and crime commissioner elections.