G8 summit: Cameron urges leaders to prepare to be brave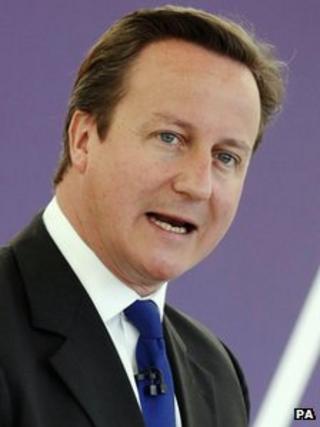 Prime Minister David Cameron wants his fellow G8 leaders to immediately start preparations to make brave decisions at the group's annual summit in June.
The meeting will take place at County Fermanagh's Lough Erne golf resort.
The UK has just taken over the year-long presidency of the group, which consists of, historically, the richest countries in the world.
"The ambitious standards we set and the bold steps we take can make a tangible difference," the PM said in a letter.
"I hope that at Lough Erne we can seize this opportunity. At the heart of my agenda for the summit are three issues - advancing trade, ensuring tax compliance and promoting greater transparency.
"All of them are areas where I believe the G8 can play a distinctive role, using our commitment to open economies, open governments and open societies to support enterprise and deliver economic growth.
"But to achieve this will require strong political leadership and months of detailed policy work from our teams.
"This G8 will not be the kind of summit where we simply whip out a chequebook at the 11th hour, pledge some money and call it a success. What we are talking about are long-term changes in our countries and the rules that govern the relationships between them.
"With ambition on this scale, I am convinced that success depends on us starting a debate on these changes now."
Mr Cameron added that he hoped to "galvanise collective international action" on tax evasion and wanted a renewed focus on "transparency, accountability and open government" around aid given to poor countries.
He also revealed that he had ordered an urgent review of the UK's failure to sign up to the Extractive Industries Transparency Initiative, which published payments by firms to governments.
Of the other G8 countries, the US are so far the only signatories.
"We cannot call on other countries to live up to these high standards if we are not prepared to do so ourselves," explained Mr Cameron.
Shadow Treasury minister Catherine McKinnell said: "Promoting growth and jobs, alongside tackling tax avoidance, must be at the top of the G8's agenda this year.
"But David Cameron cannot offer the leadership and change we need while he sticks to his failing economic policies at home.
"We urgently need a change of course, with policies that stimulate rather than stifle economic growth and ensure that prosperity is more fairly shared."
US president Barack Obama, Russian president Vladimir Putin and German chancellor Angela Merkel will be among the world leaders attending the two-day conference in Northern Ireland.
It is the first time it has been held in the UK since it was staged in Gleneagles in 2005.