Progress towards Big Society 'glacially slow', charities say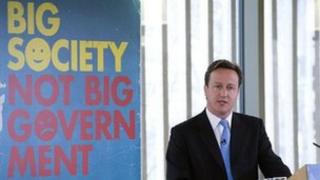 There is "huge frustration" among charities that David Cameron's Big Society idea is being neglected, a spokesman for charity bosses has said.
Sir Stephen Bubb said the concept, which was central to the Conservatives' 2010 general election campaign, appeared to be "going nowhere".
He said that reforms to public services had been "glacially slow".
Sir Stephen leads an association which represents the chief executives of more than 2,000 charities.
In a letter to Mr Cameron, seen by The Times, the head of the Association of Chief Executives of Voluntary Organisations wrote: "As Prime Minister, you described building a Big Society as your 'great passion' and 'central to my vision for our country'.
"You spoke eloquently of your desire to reform public services, with a significantly greater role for charities."
But Sir Stephen said the potential for charities to help transform public services remained "largely untapped".
'Magnificent history'
"The mood music across Whitehall has been that reform is off the agenda," he added.
Speaking on BBC Radio 4's Today programme, Sir Stephen insisted that his comments were not a "whinge about cuts".
"The letter I wrote was not critical of the Big Society concept, in fact it's supportive.
"David Cameron's vision of a bigger, stronger society is something we want and we want to help him achieve it."
He said his position was best illustrated by an example: "Last month a hospice in Wales closed despite frantic efforts to raise money by the local community.
"This is against the background where we know that the majority of people at the end of their lives want to die supported at home or in a hospice, and yet the majority of people die in a hospital bed.
"That's more expensive and not actually what people want.
"So this is not an argument about cuts, but about delivering public services better."
'New generation'
He concluded: "If we reform and modernise public services, charities, which have a huge, magnificent history in the UK, could deliver more.
"There is huge frustration amongst charity leaders that these ideas about reforming public services don't seem to be going anywhere."
But a government spokesman rejected this analysis.
"From day one of the coalition government, we have worked to help charities and social enterprises do more good," he said.
"Red tape has been cut, new incentives for giving have been introduced and the world's first social investment institution, Big Society Capital, has been delivered.
"We are determined also to build on the success of the Games makers at the Olympics and inspire a new generation of volunteers through programmes like Join In and National Citizen Service."
But shadow Cabinet Office minister Jon Trickett said Sir Stephen's comments were "more evidence of the gap between David Cameron's Big Society rhetoric and the reality of his policies which are hitting the charitable sector hard.
"Over two thirds of charities are being forced to cut frontline services as a direct result of David Cameron's cuts which go too far, too fast, at a time when his government is making hardworking families pick up the bill for his economic failure with a tax on strivers."
The Cabinet Office website says the Big Society is about "helping people to come together to improve their own lives. It's about putting more power in people's hands - a massive transfer of power from Whitehall to local communities".
The Office for Civil Society, part of the Cabinet Office, works across government departments to translate the Big Society agenda into practical policies.