John Denham targets 'dodgy supermarket deals'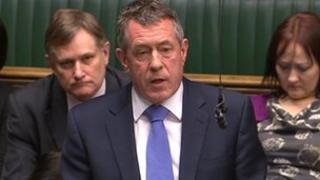 Supermarkets should be required to publish information on all their prices to prevent customers being "ripped off", Labour MP John Denham has said.
This would, he said, drive out misleading pricing and "even things up" between "supermarket giants" and shoppers.
Mr Denham said the data would allow apps to be developed for people to check prices on the shop floor.
Supermarkets have faced criticism for misleading prices on special offers.
In November, the Office of Fair Trading (OFT) raised concerns about prices being artificially inflated to make later discounts look more attractive.
'Unequal battle'
Following this a new set of principles to ensure special offers and price promotions are fair, drawn up by the OFT, was adopted by eight supermarkets - Tesco, Sainsbury's, Morrisons, Waitrose, Marks and Spencer, Aldi, the Co-op and Lidl.
But Mr Denham, a former Labour Cabinet minister, insisted more could be done to help customers get the best deal for their "hard won pound".
Under the Supermarket Pricing Information Bill, supermarkets would be required to release pricing data product by product and store by store.
However, as a 10-minute-rule bill, the proposal has little chance of becoming law.
Customers, Mr Denham said, "don't want to be lured in by headline grabbing promotions only to be ripped off once inside the store".
He highlighted research by mySupermarket earlier this month identifying Goodfellas pizza on offer at Sainsbury's at two for £4.50.
"Not only was that product cheaper in two other retailers, where you would only have to buy one, the offer price was 16% higher than you could have got in Sainsbury's most of last year," he said.
Innocent smoothies, on offer at two for £5 in Asda and Waitrose, were cheaper in two other retailers, he added, and the Grocer magazine had found that in Tesco's Big Price Drop campaign "for every two items that dropped in price, three went up".
He told MPs: "My aim is simple - to enable supermarket shoppers, that's most people in the country, to be able to compare the prices of goods, product by product, store by store, company by company through an app on their smartphone, laptop or personal computer.
"None of the information I want shoppers to have is secret, it's all publicly available. The problem is to get our hands on it we would need an army of volunteers to go into every store, every day, to check on the prices of products."
Mr Denham contrasted the lack of information available to shoppers with the "huge amount" of data available to supermarkets about how customers shop.
"They amass data on our shopping habits... they know what shoppers buy, how much and how often. They know what kind of price promotions attract us.
"It is not an equal battle," he said.
Transparency
There are currently price comparison apps and websites available and some supermarkets do provide details of their competitors' prices in-store, on shelves or printed on receipts.
However, Mr Denham said current price comparison services did not cover "all supermarkets, all products or all stores" and they did not tackle the differences in price that can be found between different branches of the same store.
The MP for Southampton Itchen said his staff had compared a basket of 12 items from a Sainsbury's local branch in Bethnal Green, East London and the chain's superstore in nearby Whitechapel.
"Across the basket of groceries the local store was 10% more expensive, with bananas 42%, carrots 59% and broccoli 49% more expensive," he said.
"I accept that most people must know that local stores are more expensive, but do they know how much?"
Mr Denham admitted that his bill had little chance of progressing through Parliament, but said it was the start of a move towards more transparent pricing.
British Retail Consortium director of regulation Tom Ironside said: "Consumers already have more information available to them now than ever before and the evidence is they are very sophisticated in using it to choose where to shop and what to buy.
"Prices are not secret. As part of the competitive battle between retailers, they already give customers as much price information as they reasonably can.
"We're not convinced that a legislative requirement of this kind is needed. It would be costly and complicated and could disadvantage smaller retailers not involved."
A representative of Sainsbury's added: "In common with other retailers, there are some differences between prices in our smaller convenience stores and larger supermarkets reflecting the higher costs of operating these stores.
"Some of the examples chosen do not compare the same products, or take into account special offers. We always seek to be transparent about our pricing and offer our customers great food at a fair price."