Local Live - giving users access to BBC newsrooms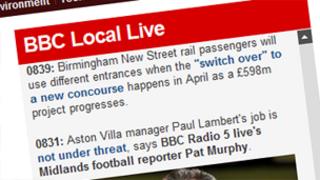 Local Live is a new way of bringing you more local content on two BBC local websites for a trial period.
The module, in the top right of the Birmingham and Black Country and Derby pages, will display short updates of local news, sport, travel, weather, user comments and links to external sites and sources.
Our aim is to maximise the value of our local content from across BBC radio, TV and online and Local Live increases our ability to be fast and accurate with the latest stories, give a greater "updatedness" and offer a window into BBC local newsrooms.
The links the BBC local sites provide to external news sources via our Moreover feeds are already popular with our audiences and we hope to strengthen these links by ensuring our audience have access to a wide range of content as well as BBC material.
We'll try to link to our sources on stories as much as possible, whether it's a police press release or a local government report.
Story behind the news
For the next few months five reporters will use the same technology that powers the BBC News website's live event pages to break stories line-by-line and share essential information with our audience in those areas.
During the trial we will aim to use the local websites to engage users on a variety of platforms, whether by text, email or via social media sites such Twitter and Facebook.
We'll be asking people to get in touch with our writers and give their thoughts on BBC content.
BBC Local Live writers will also share tweets, Facebook posts and blogs to interest and inform the audience.
And finally, on BBC Local Live we'll be trying to give users a greater insight into our journalism and "the story behind the news" by inviting them to see how we develop stories.
To get involved visit the Birmingham and Black Country and Derby sites, have a look and take part in our user survey.