Vince Cable urges PM to avoid 'dangerous EU gamble'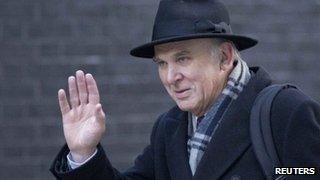 It would be a "dangerous gamble" to try to renegotiate powers from Brussels, Business Secretary Vince Cable has warned David Cameron.
The Lib Dem MP recognised that "far-reaching reform" of the EU's institutions is needed.
But he told BBC Radio 4's the World at One it would be a mistake to "over-estimate our own negotiating position".
Conservative MP Douglas Carswell said Mr Cable was wrong and "did not speak for British businesses".
Meanwhile, Labour accused the prime minister of "putting up a big flag" indicating the UK could leave the EU.
The comments preceded a long-awaited speech from Mr Cameron on the UK's relationship with Europe, which was due to take place on Friday - but has been postponed due to the Algerian hostage crisis.
The prime minister was expected to say that the UK would seek to renegotiate elements of its relationship with the EU and put the changes to a referendum after the next election.
It is not yet known when he will deliver the re-scheduled speech.
'Lance the boil'
The business secretary told the World at One: "If we go along to them now and say, 'Britain wants to renegotiate its own position in the EU,' we can't take it for granted that all the other European countries are just going to fall over and say, 'of course we agree with you.' They've got their own problems."
He added: "Once you start saying, 'okay, if we don't get what we want we're going to walk away,' then I suspect some European countries, I singled out France [in the speech] but there may be others, say 'okay, go,' and that in itself creates an enormous amount of uncertainty."
This was unhelpful to businesses, he argued, which "need clarity if they are going to invest and create jobs".
According to pre-released extracts of a speech Mr Cable planned to deliver at a private business dinner in Oxfordshire, the business secretary believes a referendum could "lance the boil" of public misconceptions about the EU.
He wrote: "It will be difficult enough to safeguard UK national interests in the single market in an environment where the UK stands aside from closer economic and political integration in the eurozone.
"It could become next to impossible if the UK is simultaneously seeking to disengage from substantial existing commitments, especially if we are perceived to be blocking closer integration in projects we are not part of.
"The Eurosceptic calculation is that British permission is necessary for closer integration - via treaty change - and that this permission can be traded for the negotiating objectives.
"That seems to me a dangerous gamble to make. There are many in Europe, notably in France, who would be happy to see the back of the UK - whatever that may mean in practice - and even the UK's allies on market reform - notably Germany - have limited political capital to spend getting a more favourable arrangement for the UK."
'Ever-closer union'
But Mr Carswell, who favours EU withdrawal, said Mr Cable and other Lib Dems were "absolutely terrified" of a referendum since the public were likely to support coming out unless presented with a "very good deal".
Other Conservatives from different wings of the party have been setting out their views.
Mayor of London Boris Johnson said the "eurozone was morphing into the European Union" and the UK's relationship with the eurozone had to be put to a referendum as soon as possible after a renegotiation concluded.
Former defence secretary Liam Fox urged Mr Cameron to make an "unambiguous declaration" that Britain will not continue down the road of "ever-closer union" and to put a new deal on Europe to a referendum.
"I believe it would forge an even greater consensus in our party and in our country, where for the first time official policy on Europe will actually mirror what the people of Britain really think," he wrote on the ConservativeHome website.
'Positive vision'
A group of about 25 Conservative MPs had written to the PM urging him to present a "positive British vision for leadership in Europe".
"We are concerned that an over-emphasis in your speech on renegotiation and a referendum rather than leadership could undermine the single market," the MPs - including former ministers Sir Malcolm Rifkind and Stephen Dorrell - wrote.
"We fear that a renegotiation which seems to favour the UK alone would force other capitals to ask why they cannot simply dispense with those parts of the single market that don't suit them."
But fellow Tory Bernard Jenkin said less than 10% of the UK's trade in manufactured goods was with the EU and the single market could not be the "overriding consideration" when deciding the UK's national interest.
He told the BBC that questions of national sovereignty and self-government were just as important and the EU needed a "new, looser template of membership", based around trade and political co-operation, that could appeal to the UK and other like-minded countries.
Asked about his own party's position, Labour leader Ed Miliband said the EU was "not working well" and "urgent changes" were needed. But he said committing now to the prospect of an in-out referendum in the future would have "big costs" for the country.